Name: Margarita Garzon Trujillo
From: Mountain View, California
Grade: 12
School: Los Altos High School
Votes: 0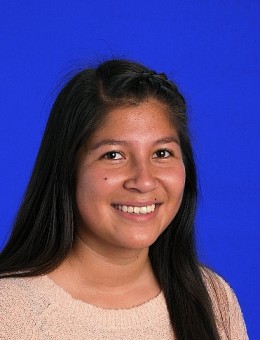 My love of working with young children encouraged me to become a teacher
assistant at Stretch to Kindergarten, a program that helps low-income
children who didn't go to preschool get a head start with
Kindergarten. The program is 30 hours a week for 6 weeks and I've
volunteering at it for three summers now. Having done the program for
so long now, I've been entrusted with new responsibilities like
having my own group of children when we do math circles or reading
rotations. Usually, assistants only help keep the children focused
during these lessons but now it's up to me to work with small groups
of children and actually teach them new concepts like shapes and
numbers. These new responsibilities have enabled me to have a more
significant impact in the children's lives because I actually teach
them some concepts vital to their preparation for kindergarten.
Every year, we always have a child who has a hard time getting used to the
school setting due to separation anxiety and it's always challenging
trying to teach them because of the lack of trust. My first summer
doing STK, I had a little boy in my class named Luis, who always
cried in the morning because he didn't want to see his mom go. He
hated going to school and got frustrated because he couldn't write
his name. I helped him by having him trace letters and in a few
weeks, he learned how to write his name. I read to him during naptime
and as the days passed he stopped crying in the mornings and became
more excited about school. Seeing that I was able to gain Luis'
trust and awaken his curiosity and love of learning was very
rewarding and one of the main reasons I chose to come back the
following summer. It's truly remarkable seeing how many students
are able to benefit from this program and start to love learning at
such a young age. STK is very important because it allows low-income
children to have a gentle introduction to the school setting which
increases their learning confidence. Without STK, these children
would be going through school lacking the confidence needed to be
successful.
Being involved in STK has made me realize my potential as a leader and my
aptitude for teaching. While doing the program I met some children
who had the potential to be successful but lacked the motivational
support of their parents. Growing up, despite the fact that my mom
couldn't always help me with my homework, she always pushed me to do
better and always told me that I had the potential to do great
things. I know that not all student out there have someone like my
mom, motivating them to learn more and do better. I want to be the
teacher who does that for my students, the one that they will always
remember. I want to spark a love for knowledge and help to guide my
students in the right direction.