Name: Sarina McCabe
From: Culver, IN
Grade: High School Junior
School: Culver Girls Academy
Votes: 0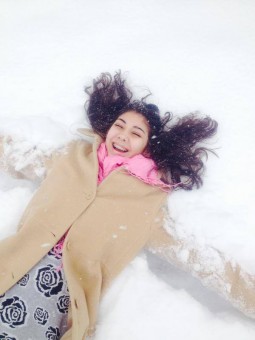 The first death threat came in May. It was something like, Silence
yourself or be silenced. I sat in front of the computer, frozen.
The hairs on the back of my neck bristled and my tongue turned to
sandpaper. Sucking in a breath, I typed, "I will not be silenced."
A month earlier, before my new name and identity, I might have.
Now, I refuse.
In April, 2016 I released my first novel. After years of query
letters, countless redrafts, and late nights, I held the first copy.
The novel investigates sociocultural issues that, although present in
its 1950s setting, are relevant today. Race, identity relating to
gender roles, and consent are among the topics discussed. The
Devil in Amen's Corner became the driving force behind my
volunteer work. I attended conferences for human rights, taught
literacy workshops for disadvantaged youth, ran workshops at
libraries across Indiana, corresponded with teenagers across America
about their writing aspirations, and gave book talks. Almost
overnight, I went from ordinary high school sophomore 'Sarina
McCabe' to 'Sarina Adeline, LLC', and it was daunting.
As an introvert, my own philosophy to 'never give up your voice'
is challenging. I encourage others to speak up for their beliefs, but
I am struggling myself. As an author (which still sounds bizarre to
me), volunteering sometimes means making people uncomfortable; my
writing's primary purpose is to challenge the social constructs in
which many people have nested and built their lives. In an interview
with the South Bend Tribune, I explained that my writing was going to
make some people uncomfortable, but that people should ask themselves
why they feel that way. That holds the key to awareness of
individual biases and empathy for others. At times I struggle to
practice what I preach, pushing myself to explore new perspectives.
My volunteer work may be a bit unconventional, but I consider myself
to be 'on call' for as long as I am awake. Spreading awareness of
social issues that are hiding in plain sight and using my own voice
as well as encouraging others to use theirs is the most satisfying,
albeit difficult, part of my work.
Looking forward, I will graduate in 2018 and attend university.
Regardless of my field of study and career, this journey will
continue to be an integral part of me. I've discovered that working
with others in human rights and promoting social progress is my
greatest aspiration as well as the heart and soul of my novel. While
society takes great strides each year in pursuit of equality and
opportunity for all, I've learned that the greatest issues are
camouflaged by our own fear of change and of being uncomfortable. I
want to help jumpstart the discussions that will stoke the fire of
movements to help our current world and our posterity, even when
those around me push back in unpleasant ways. Instead of being afraid
of criticism, now I encourage it. I can't take back my voice, and I
don't want to.