Name: Amaro Daniel Villescas
From: Edinburg, TX
Grade: theguitarist777@gmail.com
School: theguitarist777@gmail.com
Votes: 0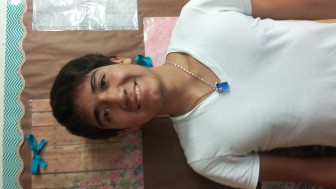 Amaro
Villescas
07
October 2016
Youth
Forward Scholarship
Music is wonderful thing that can affect people in many different ways. It can make you happy, it can make you sad. What you listen to is who you are and who you will be.
           We are constantly affected and influenced by our surroundings: friends, television, social media, current events, and music. None of these things are bad, but they can be if you make it.
            My name is Amaro Villescas, and I volunteer in my church's praise and worship team. I have been playing lead guitar at my church for about a year and a half. In total, it is about one hundred fifty hours per year, or three hours per week. Now you can say, "This doesn't count as volunteer work." The thing is, it's not volunteering. It is a ministry, and a ministry will not be helpful to anyone if you take it as a "have to", or are doing it for yourself. I'm not up on stage just to show off how good I am, or entertain people. I am there to lead people into the presence of God. One thing I've learned this past year, is that yes, talent does entertain, but the anointing of God changes lives. One of the biggest challenges I had to face was overcoming myself.
            I had to constantly remind myself I'm not up here to entertain, I'm here to help usher people into His presence. There is pressure, but there isn't at the same time. If I try to focus on trying to sound perfect more than I focus on Him, I am going to mess up. And on top of that, it becomes entertainment. The solution for my problem, was worshiping God while leading others to Him. I have to put Him first. Being a praise and worship leader has taught me humility, but also pride to be playing for Him. It has also taught me compassion. I am doing this for God, and for other people that need to experience Him. I plan to continue to learn about my God, my Father, and pursue whatever plan He has for me.