Name: briseida martinez
From: arlington, TX-Texas
Grade: 12
School: lamar high school
Votes: 0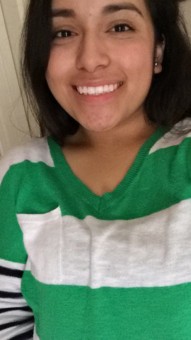 The
art of volunteering
Do you ever notice those streets in your hometown with people laying on the ground that are destined for something great? That old couple that can barely carry their groceries into their car? A shop owner
struggling to get their business up and running? Only if there was somebody that could help them out. Think about everything you have or can do that they may not be able to do anymore.
My freshman year in highschool changed my whole perspective of the word help. I joined LULAC and it has been a really great experience working with people my age and learning about the world outside the classroom. That same fall of my freshman year we visited an old folks home and I walked out of there with a whole new appreciation for my elders.
The description of what we were suppose to do was to feed the people, talk to them, get to know them. The typical stuff. What I didn't know was the fact that their stories sound a lot like mine. Of course they have had a lot more experience than me so i learned from them. Mistakes that I should not make.
From that day forward I signed up for any community service that was available. Not just at school, but at my church there were a lot of opportunities, especially during the holidays. Where i'm from there is a huge hispanic population and although spanish is the second language spoken in that area, there are not a lot of volunteers that did. We were to help people " shop " for their gifts in the donation building. After they would " checkout " we would be wrapping their gifts. It took close to ten minutes per person to wrap their gifts so there was room to get to know them. Out of all those people I met that day, there was one lady who stood out. She had two boys, approximately 13-15 years old. They were attending a private school that she was paying out of pocket for and really didn't have extra money laying around. She than thanked me for wrapping up her
gifts and said continued to tell me how grateful she was that there were people who helped people like her out. I went home and thought about money, and how my parents had enough to support three kids and still have to buy us things. All those kids out there to struggle to get a gift during christmas and I have all we ever wanted. That christmas changed the way i asked for things. I only ask for things that I need, when my parents tried to give me something expensive i tell them to go buy gifts for the kids. Give them something that they
can have fun with.
This year is my senior year in highschool and I am proud to say that I am the president of LULAC. The change I wished to see through my freshman eyes are slowly coming alive. A couple days ago I actually feed the homeless for the first time in my life, and it was world of emotions. I was happy,scared,confused, and had burst of energy. The happy faces on some of the people made me look forward to the rest of my day. Some rushed to us to get the sandwiches others took their time. I was thinking to myself that if I were to ever be in their situation i would take any opportunity that i had. That's the part i was confused with. We then changed locations to get other people and some of them had stories for us and we listened and again when we were on our way home we realized that we have it good .
           Like a painting, volunteering comes together with little elements. The canvas is a community that needs help, the brushes are the people helping out and the paint is the good being spread around. Without the community service that I have done in the past, I don't know what I would be. Volunteering builds character, builds the will to step out of your comfort zone. Something what we all use in this world of sorrow. I wish more people would try and have that feeling of accomplishment.