Name: Nicole Bogusch
From: Austin, TX
Grade: 11
School: McNeil High School
Votes: 0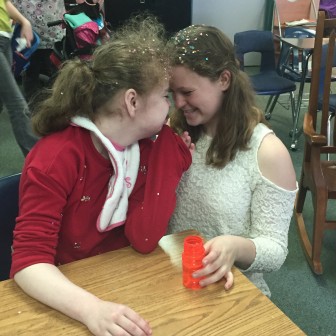 The BEST Kids in the World
By: Nicole Bogusch
I have spent the past five plus years of my life, and plan to spend many more, working with the outstanding children involved in the special needs program in my community. Special Olympics was originally something my seventh grade PE teacher pushed me into, but it became so much more as I have now devoted about 300 hours to the program with its many different sports. Since the very first practice I have shown up early, helped the coaches set up the area, worked one-on-one with athletes in need to assist them in completing their sport successfully, and I have stayed late to talk with the loving
families involved. Each sport and individual is different and causes different emotions; for bowling I mainly assist Sarah, a birthday buddy and princess in her own right despite her heavy disabilities, for basketball I assist a small group of Elementary aged athletes with their dribbling and shooting skills, for track I work with Caroline and act as a safeguard to catch her in case she falls from her many seizures, and in swimming I am on a unified team where I compete with my many new friends in relays.
            My biggest challenge in Special Olympics was the fear I felt while walking into that first practice not knowing anyone or what to expect and feeling like I was going to be cast aside. But oh, was that fear wrongly placed. Walking into the near freezing track practice, I was immediately greeted by fellow early birds, volunteers and athletes alike, and showed the ins and outs of the practice. Toward the end, I noticed a young girl, Ellie, who was struggling to respond to anyone and everyone around her. She was beginning to fall behind on the cool down lap around the track. I knew right then and there that I would stop what I was doing to go and help any one of these children Just as I went to Ellie's side and took her hand to lead her around for the last lap around the track, her mom came up and thanked me because no one had ever done that for her daughter before. That night, I remember going home and telling my mom how despite the cold day, these kids and their families warmed me up to my very toes.

I had always known I wanted to grow up and help people, Special Olympics clarified my life that day and every day on as I now know that this is what I want to spend the rest of my life doing. I want to make an impact in these children's lives even more so than what I am doing because they deserve to have the stars handed to them. Many people are afraid of special needs people, saying "they are different and scary". But looking forward, I want to be part of the movement that helps take down biases about disabilities and helps these children realize their self-worth and blossom into productive young adults. I will be a special needs teacher.