Name: Victoria S Houston
From: Trenton, Michigan
Grade: 12
School: Trenton High School
Votes: 0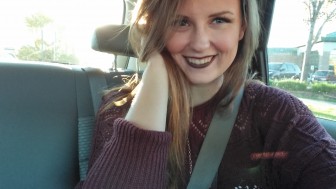 Victoria
Houston
Trenton
High School
The
"Fun" Coach
As a busy high school student, I have been fighting increasing college tuitions by
expanding my horizons to gain some experience before I graduate. All
experiences are driven from some sort of prior interest, for me, that
came with children. I have volunteered in many alternative places but
it all seems to boil down to kids. I have coached kids in swimming, I
have helped out counselors at summer camps, and I have also aided the
youth of my school's band programs. Each of these things I happen
to like to do, but something always drew me to helping children learn
and grow. Some of these volunteer hours have lead me to certain jobs
or other, but that did not stop me from being the fun loving coach I
wanted my kids to experience. For me it was like stepping into the
shoes of a coach I looked up to, I wanted to be that person. Over the
course of a year, I can easily say I have dedicated at least 50 hours
of volunteer time in between things like work, extracurriculars,
school, and sports. As a coach I have been in charge of managing
children, and teaching them how to swim properly. Being a swim coach,
I have to meet certain qualifications, being a certified lifeguard is
one of them. So in case one of my kids slipped, or injured
themselves, I have the proper training to help them or to get them
the professional help they need. This leads to the challenges point,
when you are older, conveying messages seems simple, everyone
understands. But with children, it's very different, especially
with such an abstract concept as swimming. Some of the motions they
aren't completely used to, and you have to push them in the right
direction. I have found, that you might not get there all the time
with certain kids, some take more time, some take less. But at the
end of the day, nothing brings a smile to my face more than when the
kid gets it, or when I see the kid out touch the opposing team with a
simple technique I taught them. What I take away from moments like
these, is that spending your time benefiting someone else is
oftentimes more rewarding than benefitting yourself.
When it comes to my career, I am looking into many different business
pathways for my future. The one I am focused on at the moment is
Marketing. I know this doesn't really align with my volunteer
focus, as children usually aren't in the advertising world.
However, business is so vast and unknown, I could do anything with
that degree, maybe one day I would end up in a business where
children are involved.
"Forward Looking" context is everything, as for my activities in the
present, forward looking would define "what about your actions
right now, are benefitting your future?" I think all experiences
are beneficial, but I don't believe all experiences are good ones.
My activities as of present now that swim season is over, are looking
in the theatre direction. This show is kid oriented as it is
"Cinderella" hopefully my role will be able to influence some
children for good as I am the Queen. But going back to coaching, I
would like to see more fun involved for swimming, after my volunteer
hours with this team ended and my coaching job began, it is very
serious. As these kids get older swimming becomes a very mental
sport, I would like to see mental health regarded more than just
something to "get over". It's not when these kids are children,
it's when they are teenagers that it stings.
If I were to come home, back to this team, I think my activities would
have contributed to the awesome growth of these children to become
athletes. I coach children from 6-9 years old. In ten years I hope to
see them, having fun. Because while swimming is a mentally grueling
sport, the most important thing for these kids to realize is that
this is all supposed to be fun, they're supposed to like it. I want
to come to their high school league meet and see the biggest smiles
on their faces no matter what place they make it in. That's how I
think my activities would make a difference, that no matter what
happens, they can look back on their days as a kid and still remember
their favorite coach Victoria. Because Swimming is supposed to be
fun, I want them to remember that.