Name: Casey Chaffin
From: Salem, Oregon
Grade: 2015-2016: 11th, 2016-2017: 12th
School: West Salem High School
Votes: 38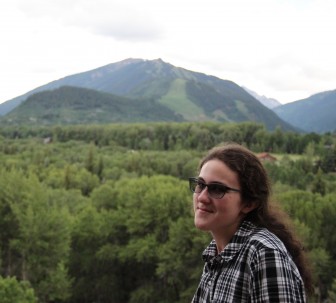 The
Importance of Storytelling

There's a kind of warmth that comes with good conversation—the warmth of someone's hand holding yours, fingers intertwined in a motion that says, "I'm here." This feeling makes real the weight of our words and the consequence of our utterances. On a regular basis, my staff gets to experience the communion that comes with listening to another person tell their story.
My high school's newspaper is the volunteer project that took on a life of its own. When I started the newspaper as a club my sophomore year I had no idea how much we would grow in the following years. Our first year, the newspaper progressed from a website with club-produced content to a class that prints issues.
Now, we're into our second year as an elective, and our enrolled staff size has doubled.
My senior year will be my third year as editor-in-chief of the school paper. I've spent more late nights laying out the paper than I can
count, and I've written articles three days before publication to fill gaps. Picking up others' slack is hard—especially when I put my heart into completing my share of the work to the best of my ability. I'm motivated by the knowledge that creating the best publication can will ensure that our efforts are not in vain, and that the newspaper won't disappear once its inaugural editor-in-chief—me—graduates. So far, our work has paid off; our principal has renewed our print budget and class time for next year.
This summer, we received an opportunity to expand our project beyond the high school level. My journalism adviser and I are one of 12
student-teacher pairs in the country to win a scholarship from the Bezos Scholars Program to enact change in our community. We're
using the Bezos Scholars funding to create an offshoot of our newspaper program at our local middle schools to foster an appreciation for storytelling at a younger age. The more roots we create in the community, the more people we can reach and the more hope our publication has of surviving for many years to come.
The beating heart of journalism is human connection. Working for the newspaper has instilled in me a love of storytelling, and the goal of becoming a journalist after college. But journalism did more than give my life a purpose; journalism has given me a deeper
understanding of what makes us all human. The newspaper community—my staff, the people we interview, and our readers—is held together by the stories we tell each other and the knowledge that people don't see their worth until they articulate their stories. That's why, when I think about pursuing a career in journalism, it feels like the moment right before the sun comes up and there is endless possibility because the clock has just struck zero and I've got an entire life ahead of me.