Name: Emily Schaeffer
From: Tulsa, OK
Grade: 11- Senior in -2016-2017
School: Booker T. Washington High School
Votes: 73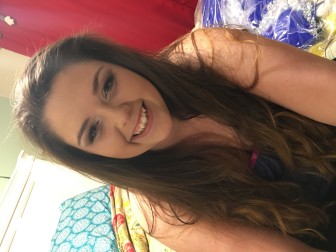 I am a volunteer for the March of Dimes, Tulsa Chapter. I first began
volunteering when my mom's friend, the Tulsa Director was looking
for extra helpers for their annual Chefs Event. From volunteering at
this event I learned what this organization is all about, and how
they help the lives and families of premature infants. Helping
children is my passion and my career goal is to care and teach
children. From that first day on I was hooked and knew that I wanted
to continue to help this organization. Since then I have volunteered
at the Chefs Event for the past 3 years. I put in over 20 plus hours
each year. My tasks have included being a greeter, worked the check
in desk, silent and live auction, hostess, check out and of course
clean up after everyone has gone home. Along with the Chef's Event,
I also volunteer for the Tulsa Walk. I help with early morning set
up of the activity stations for the children, food, I blow up
balloons and decorate the stations and main stage. I have been a
judge for their t-shirt contest, run the bouncy house and also been a
face painter. My favorite part though is cheering them on during the
walk and passing out stickers as they come to the finish line.
My biggest challenge was this past year as a face painter, I'm a
creative person but not when it comes to drawing, I worried they
wouldn't like what I painted. I did the best I could to paint what
the children wanted. At the end of the day, I learned. they didn't
care if it wasn't perfect, they just wanted to be included and have
fun. The smiles on their faces when they looked in the mirror to see
what I had painted was all worth the stress I put on myself. The
best part about helping with the March of Dimes is helping local
families that have premature babies that have survived, meeting and
interacting with the children, and paying respect to the babies that
weren't so lucky. From working with this organization I have
learned that there is no way to prevent premature birth only ways to
help reduce your odds.
Between these two events I put in a good days work each time, roughly 10
hours per event. The hours of volunteer work go so much farther than
that day alone. We are fundraising not only for children attending
but for the children who in years to come may have the same chances
for a normal life, for those who lost the battle and in hopes that
their deaths were not in vain, and hopefully to prevent premature
births from happening to future families.
Looking forward, as a young woman who wants to be a mother someday, it's
good to know ways to help you have a healthy pregnancy so a healthy
baby can be brought into the world. It also helps to educate others
about this great cause. For me "forward looking" with the March
of Dimes is thinking how can we help prevent this, to be an advocate,
as a volunteer, or a donor, to spread awareness so families know
what to do and where to go if this does happens to them. I hope that
with my continued help there is a higher rate of survival for
premature babies and that maybe we could find a way to prevent
premature birth together in the future. I have not only volunteered,
but, I have also raised and donated money. I would like to think that
my work and donations these last few years has helped at least one
family, if not more. In hopes they can feel the joys that come with
raising a child. I love what the March of Dimes stands for, what
they do for so many families in this world, and I am SO PROUD to be a
volunteer for such an amazing organization.