Name: Sarah Foreman
From: Katy, Texas
Grade: 12th
School: Cinco Ranch High School
Votes: 0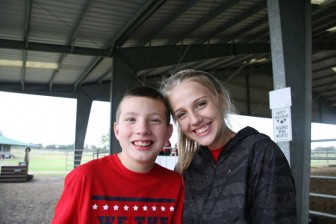 Sarah Foreman
Youth Forward
The
kids that changed my life
You always seem to meet the most amazing people when you least expect it. This was very true about Suzette Steward and the kids she brought into my life. Suzette, who would become simply "Suz" to me, introduced me to a group of people with the most beautiful souls I have ever met. Suz runs a camp called Camp Journey, a camp that aims to allow children and young adults with special needs, primarily Autism, to experience life.

           When I was first invited to this camp in January of 2013, I went in expecting to alter the children's lives and positively impact their future. My role was to watch over the kids, help them if necessary, and make sure no one was in any danger.  I began spending every spare moment I could with the kids and quickly developed a deep admiration for each of them. I loved taking the time to learn all their quirks, all their struggles, and all the little things that allowed them to have such a pure love for life. It was not always rainbows and sunshine though. The kids would push me if they saw that they could. My moments of vulnerability were, at times, taken advantage of and would give the kids a chance to act in ways they knew shouldn't. This has been my biggest struggle while working with who I now refer to as "my kids". I had to learn almost
immediately how to control my emotions and not let them get the best of me. It was challenging to correct the bad behaviors of campers I had grown very fond of, however, I needed to learn that I couldn't allow these emotions to lessen the quality of my care for them. Although there were moments of misbehavior, working with the kids gave me an insight to some of the most genuine joy I had ever seen. I was taught to not let little things bother me. If my kids could work through their disability and still come out so beautifully gleeful, then I knew I could, too.
Since that day in January, almost four years ago, I have volunteered over 1,200 hours with Camp Journey. Looking back, I remember thinking how I could change their lives, however, the kids have changed and bettered my life in more ways than I can possibly explain. I have been taught how to love hard, laugh loud, and adore every second of life that I can. I will continue to endure every tantrum, every misbehavior, and every difficult moment with them if that means I get to hear their laughter just one more time. They have become my family, and the love that I feel for them is unexplainable. I had no
idea when I began volunteering for Suzette and her magnificent camp that I would ultimately find my passion. When I look back on these blissful days I am fortunate enough to spend with such wholesome people, I know I will be proud of the time I spent trying to make sure every second I spent with my kids was filled with love and happiness, and I will be forever grateful for the kids that have changed my world.