Name: Stuart Martin Krzeminski
From: Allen Park, MI, 48146
Grade: High School Senior
School: St. Frances Cabrini
Votes: 0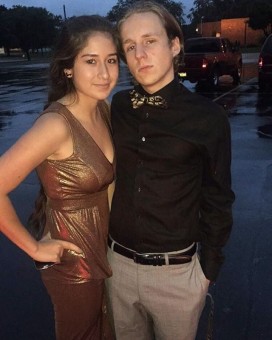 Stuart
Krzeminski
Youth
Forward Scholarship 2016
The definition of love is described as a feeling of deep affection
towards a specific someone or something, and one of the most
significant aspects of love is the application. While growing up
around Detroit, I've especially seen a great abundance of despair
and a lack of love through the homeless and ones struggling, as well
as on the news and in other cities all over. Luckily, my life has
been relatively privileged, and I have been able to grow up nearly
the opposite of how some of these beautiful people have before me.
Therefore, to me it is a duty to take care of these kind people and
give them what they have not been given before and try to give them
the optimism they need to get up and continue their life with the
strength and courage they need to succeed.
Over the last summer, I recently got a job with a moving company and
earned cash for personal things such a gas, insurance, my savings, et
cetera. Except, every pay check received, there would be some cash
left over for whatever. Instead of wasting my time indulging myself
in unnecessary materialistic items, I bought necessities like water
and food. I would take all these items, along with a dollar or few,
and put them into a nifty lunch bag and begin my day, taking these so
called care packages to the ones who needed them the most on the
streets. There are people hungry, thirsty, and in need of a helping
hand down on most corners in the city of Detroit. This small gesture
and interaction means the world to these people and gives them a
sense of being loved and affection that has been hidden within them
for quite some time. It only takes a few hours to give what seems to
be a lifetime worth of joy to these brothers and sisters. In my point
of view, one of the most factual, objective statements is how giving
is the best gift of them all. No car, no mansion, nothing is worth
more than another human's genuine, beautiful smile glistening right
before me, all because of the simple kindness and time I gave them.
At the set of the sun, overall every human is equal and deserves the
same joys and freedoms, and by being a volunteer and extending these
attributes to every last person, the closer we get as a mankind to
sharing world peace.
I believe my vocation is to be a glass blower, and through this I want
to share three-dimensional forms of beauty with stories and messages
such as this one. Forward looking is and should be a significant
aspect in everybody's life, since the actions I do are aiming for
equity and the destruction of the homeless and poverty-level
population. I hope and wish that through my actions, I enabled at
least one person to rise above despair and become what they always
have wanted to be.