Name: Alexia Belrose
From: New York , NY
Grade: 12
School: Pace University
Votes: 0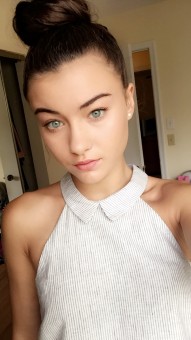 Alexia
Belrose
Youth
Forward Scholarship
9/18/16

Power
of Community
Some individuals are given certain circumstances where they can't pull their own weight. As a person who has experienced financial instability and hardships of life I understand that some just need guidance and help to get back on their feet. The past 4 years I've been moved by the power of volunteering and the excitement of making make a difference in the world.
I have chosen to dedicate my time to helping those in need. The homeless, youth education, performing arts, and those who need assistance throughout the world. Right now I have over 400 hours of community service hours in the past three years and I plan on continuing to expand my assistance to others in need around the New York City area.
My favorite volunteer work was going on a mission trip to a small village called Mare Rouge, Haiti where my primary duties where working with children, schools, community infrastructure, health clinics, and churches. It blew my mind how everyone there had absolutely nothing and the majority asked us to pray for them to pass their test so they would have the opportunity to receive an education. This touched my heart and changed my life. But I realized
that even though its great to go out of the country to give your support and assistance, there's a lot of people in the America who need my assistance as well. That is what ignited my desire to feed the homeless, help struggling families, and educate the youth.
Seeing the smiles on the faces of others when I perform a deed so simple is the one of the most satisfying things. It fills me with joy when I know I have made someones day either by giving them a meal, safe place to sleep, or helping a kid with their homework.
The biggest challenge I face when volunteering is witnessing the tragedy that happens around us. I attend school at Pace University in New York City and even though there are many homeless and pollution around us we have come accustom to be blinded by what is around us. Volunteering for the homeless and families who are suffering is really heavy on my heart, seeing what they go through everyday.
My volunteer position in Haiti taught me that miracles can happen. It taught me that materialistic things are irrelevant because others aren't receive the necessary things to survive. It taught me that many speak of "changing the world" but aren't willing to put in the work that can be done by simply taking the time to volunteer.
As a volunteer I hope to see one less person on the street, one more child able to get an education, one more family able to live a better life, and for us all to live in a healthier and safer environment. To help lift the weight some can't life on their own.