Name: Ashanti sturdivant
From: Greensboro, North Carolina
Grade: 11th
School: James B Dudley High
Votes: 29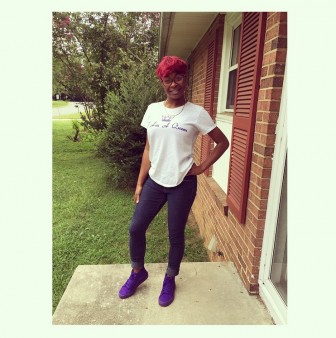 Ashanti Sturdivant
12th
Greensboro, North Carolina
The Service
Learning champ helping lives in Greensboro
Service learning has always been a great experience for me. I've done All types of projects like Winter drive for the homeless Giving away care packages preparing for Winter , Christmas-adoption, CIT counselor in training for kids at summer camp Greensboro park and recreation I ended up earning 136 hours for three weeks and, the thanksgiving turkey giveaway to name several. My favorite one is the back to school giveaway. I participate in this every year. With the non-profit organization I'm apart of (I Am a Queen). The organization focuses on empowering women to embrace the queen on the inside and encourages giving back abundantly. I am the chair for their teen advisory board. The back to school giveaway event is designed to give away seven-hundred backpacks, including extra school supplies. My favorite task at this event is handing out the backpacks to children. There is nothing more warming to my heart than putting a smile on a child's face.

             I've been participating in the back to school giveaway for about four years every month of august, right before school starts. I wake up at seven thirty am before the giveaway starts excited to volunteer. I think about all the families I'm going to help and my experience of the previous back to school event. I evaluate on what I can do better to keep them happy about getting a backpack. I suggest on picking out the backpack that suits them best. I arrive at the event at eight thirty am in a good spirit. I begin to look around and see the line has started. I get excited about serving my community. I see people I have met during the previous event, greet them and tell them "thank you for coming." I usually think of this event as like a celebration for blessings. There is a Dj, and many other volunteers doing (security guard, line directors, school supplies and backpack duty). I have to sort out seven hundred backpacks in chronological order, primary school to grade school.
The doors open at ten am for the people to come in. I get even more excited. The people always look really nervous because everyone is staring at them. I hand my first backpack to a young girl wearing a Disney Princess Elsa shirt with her grandmother standing behind her. Her face glows because based upon her shirt I gave her a Disney princess frozen backpack. The girl's grandmother was overjoyed, and gave me a shake on the hand.
Those are the experiences I come back for every year. In the middle of handing out backpacks, one of my advisors tells me I need to stop and run outside to hand out water bottles because some of the people where getting over heated. It was ninety- seven degrees that day at eleven am. I handed out water bottles to seven or eight families. The families continued to smile and say thank you. I was glad to give those water bottles away; I said to myself everything is going to be okay now.

              If I was to come back in ten, twenty, or even thirty, years I think my volunteerism would have made a difference here is why; I went back inside to finish my backpack duty, saw the Fox Eight News recording the wonderful things we were doing. Families where laughing dancing with volunteer's. Which made me smile. Then one little boy got upset about a backpack another volunteer gave him. His mother was telling him to keep on going because the line had to move. He reminded me of my three year old brother and how he would feel. So I picked up a paw patrol bag and gave it to him.
He stared at me as I brought the backpack over and his eyes got bigger. He said "yes.!'' with a smile and gave me a warm hug. His mother said "Thank you so
much". I said my pleasure because at that moment I knew I had accomplished my task; which was to keep a smile on their faces. I always stay humbled. When I volunteer for events like this I think of how much I have and take for granted.