Name: Hannah Sackles
From: Tampa, Florida
Grade: 11
School: Tampa Bay Technical High School
Votes: 0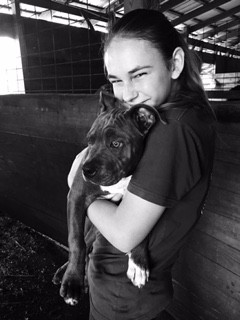 I have chosen to volunteer with abused and neglected farm animals because from a young age, I have had a passion for caring for animals and creating positive change in my community. I volunteer around five hours a week at Apache Way Farm Rescue in Plant City, Florida, and in the past three years I have volunteered over 300 hours. As the head volunteer at the rescue, I help feed and groom the animals, provide them with a clean environment, and observe and provide assistance in administering medical care. Additionally, I help teach younger volunteers and visitors how to properly care for rescued animals, and work to spread awareness for the prevention of animal abuse.
So far, my biggest challenge in volunteering at the rescue has been in balancing the time I devote to my academics, and the time I spend at the rescue. Throughout high school, I have been enrolled in mostly honors, Advanced Placement, and Dual Enrollment courses, which require extensive study time at home. Since beginning volunteering, I have developed proper time-management skills to ensure that I am able to complete my assignments and still maintain my responsibilities at the rescue.
My biggest satisfaction in volunteering at the rescue is that I am able to help nurture severely abused and neglected animals back to health and provide them with a safe and loving new home. I also have the opportunity to share my passion for animals with others that are determined to make the world a better place. From my time volunteering with abused animals, I have learned the true extent of
the effects our actions have on other living beings. Every week I care for animals that once suffered at the hands of their owners, and
have slowly begun to trust humans again through lots of love and nurturing. Their behavior is directly dependent on the way that they
are treated by those around them.
I plan to study environmental engineering with a focus in theimprovement of factory emissions and alternative energy sources to
reduce our carbon footprint. While my volunteer work at Apache Way Farm Rescue does not directly relate to a degree in the STEM field, it has prepared me for a career in which I work daily to improve the world around me.
            To me, "forward looking" means participating in service activities that improve conditions for others for generations to come. I view my volunteer work as forward looking because every week, I work to teach others how to properly care for rescued animals which require special attention and resources. I hope to inspire others to take on service activities of their own to create positive change in our
community, especially those activities dealing with the prevention of animal abuse, and the adoption of animals that had an unfortunate
start in life. I believe my work will have an impact for decades to come because I work to educate other people who can spread the values of proper animal care.