Name: Casi Hudak
From: Goodrich, Michigan
Grade: 11th grade/ junior
School: Goodrich High School
Votes: 0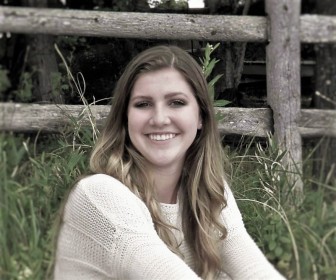 The
Volunteer Experience
During the winter of 2016 I decided to volunteer at Hurley Medical Center in
Flint, Michigan. I chose to volunteer in the Emergency Room because I
wanted to see as much as could and I thought that this was the best
unit to do that. I became interested in volunteering at Hurley
because one of my friends volunteered there for a little bit, and
said that she enjoyed it. After learning a little bit about the
volunteering program, I was getting excited, I couldn't wait to
start helping and working inside the hospital.
As a candy-striper, I am sadly limited to the number of things I can do at
Hurley, however each floor is different. When I volunteered in the ER
I emptied soiled linen bags, restocked the rooms with linen and I
also brought patients water, warm blankets, pillows, and socks if
they asked for them. I also transported patients into and out of the
waiting room and led family members to their loved ones' room. I am
currently volunteering on the Orthopedics and Post-operation unit
floor. Since this unit is more spread out and the patient number is
more consistent, I am able to do more. I answer call lights, transfer
calls and call the nurses for their patients, and transport patients
to the lobby when they are discharged. I also pass waters, empty
sharps containers, and get ice packs, towels, and anything else the
patients may need at the time.
The biggest struggle I have with volunteering is the lack of care that I can
provide since I am only a volunteer. I also struggle, sometimes, with
getting up in the morning since I volunteer Sunday mornings at eight,
but I know that I should go help and spend time at Hurley, so I go as
many Sundays as I can. I find satisfaction in helping the patients
and the nurses, a simple "thank you" makes me feel appreciated
and that I am making a difference. I have learned a lot about the ins
and outs of a hospital from the volunteer program. I have been
volunteering since February of 2016 for four hours every Sunday, and
I have a total of roughly one hundred hours put in. These one hundred
hours have showed me how important each nurse, doctor, and nursing
aid truly are to each floor. I have also seen just how much nurses do
for all their patients.
I believe that volunteering at Hurley is "forward looking" for me because I want
to go in the medical field to become a doctor, specifically a
pediatrician. I hope that by volunteering I can show the patients
that there will be a new generation of nurses and doctors who
genuinely care about them and hope for the best for their patients. I
feel that my volunteering time at Hurley would have impacted people,
the nurses, patients and their family members, and I would hope that
showing kindness would make a difference.