Name: Emma Rose Dodson
From: Huntsville , AL
Grade: 11
School: Huntsville High School
Votes: 0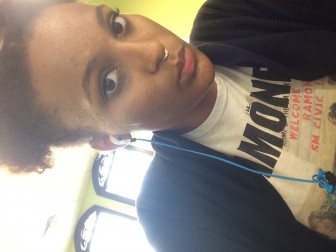 My Volunteer
Story: The World Beyond
I Worked in children's ministry for over six years, on-stage, and,more often,
operating and running the tech booth, including audio-visual
equipment, strobes, …etc, as well as creating digital programming,
software and media as an aid. This experience also involved
activities such as working with the local homeless shelter and soup
kitchen. Additionally, at Disaster Preparedness camp I was elected
Red team Leader. Lastly, I am Vice President/Co-founder of African
impact Club, which aims to educate the world around us.
I am passionate about things ranging from computer science and forensics, to
skateboarding, existentialism, and cinematography. I've always
enjoyed making and editing films, even as a child- using the school
library's chunky desktop computer. This interest eventually led me
to further my involvement in community service. This became a large
part of my life, and I was responsible, along with others, for the
programming, stage-performance, and technical aspects of elaborate
and high-tech church services. I did multiple roles on stage until I
settled down into the role I loved most – being a tech operator. I
eventually trained myself further in how to operate the lights,
strobes, music, sound, and video equipment. Eventually, I would start
editing and producing some of these videos and programs myself.
The first church I worked at, The Rock, would have, sometimes, over a hundred
children, in which me and other leaders were expected to provide and
example and good influence on the children coming through the church
doors.
These churches were also linked in multiple community service organizations in which
I helped out, whether it be through the distribution of food to the
homeless, helping construct a thrift shop in low-income areas, or
providing free child care to low-income families undergoing financial
classes.
During middle school I wrote an essay and was thus selected into NASA's specialized
Disaster and Emergency Preparedness Camp called "Be Ready Camp".
Throughout this camp we attended class, taking notes and practicing,
on how to handle disastrous situations, whether it be environmental,
medical,…etc.
This all culminated in a giant simulation the final day, in which a simulated
plane crash was performed and we were all responsible of treating the
injured casualties, all of which had multiple realistic wounds done
on them by a professional hollywood makeup team, and simulated
different medical conditions (shock, head trauma,
unconsciousness…etc).
The main groups, each with over twenty students in them, were the Green, Yellow, and
Red Teams(Based upon seriousness of injury), Logistics,
Transportation, and Search & Rescue.
I was appointed by the adult mentors as Red Team Leader, meaning that I was in charge
of the team who dealt with people with the most severe and
life-threatening injuries.
Though I was scared at the time, this knowledge would greatly help me in life, and
allow me to educate my community around me, whether through
presentations at school or community efforts of preparedness.
I was even able to help a child in a service of the children's ministry deal with a
heat stroke until he could be admitted to a hospital.
Finally, I am the Vice President and Co-Founder of The African Impact Club at my
school, which aims to both educate society about people of different
heritages, and help traditionally underrepresented groups know of and
take pride in their culture. This was a huge accomplishment, and one
that both me and my friend (Miniya, the other founding member) felt
needed to happen.
This was, in part, due to the fact that we live in the deep south, in a
mostly-white mostly-traditional part of Alabama, where, although
perhaps not a huge issue on the surface, race relations were
definitely an issue of huge impact.
Creating this club allowed minorities (often feeling singled out) to learn and,
finally, be proud of their culture. This, also, created a sense of
community amongst not only African, but other minorities, and
fostered a sense of understanding that spread school-wide.
I believe that the achievements I have made have inspired others around me to
shatter stereotypes and dream ambitiously. Being Vice President of
The African Impact club I have seen so many people who were, at one
time, ashamed of themselves, come to take pride in their culture and
heritage. This is truly empowering to be a part of, and is a victory,
not only for the club and the school, but the community; black or
white, Hispanic or again or any other minority.
Being involved in community service through my church has allowed me and others to
empower the children we teach, the future generation of doctors and
teachers and artists, with positive messages and affirmation through
Christ. I am so glad that I have the opportunity to be with these
kids and so thankful that they trust me so much that they ask me for
help or advice when they feel as if they don't know what to do,
especially seeing how some of these kids don't have positive role
models in their life, or role models at all.