Name: Mariah Strickland
From: COLORADO SPRINGS, CO
Grade: 11
School: Homeschool
Votes: 0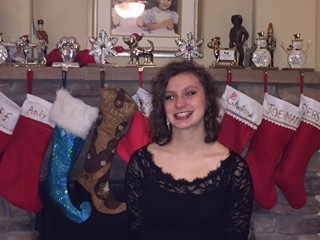 "I have one life and one chance to make it count for something… My
faith demands that I do whatever I can, wherever I am, whenever I
can, for as long as I can with whatever I have to try to make a
difference."
In a day and age where fear, violence, and affliction envelop the world,
hope is found few and far between. Tragedy is everywhere we look,
often blinding our sense of optimism. How can we find a light to
guide us in the darkness that suffocates?
The answer is simple—be the light.  And spreading that light, I've discovered as a
full-time student not even graduated from high school, is not always
joining the Peace Corp or going on mission trips and building schools
in poverty-stricken countries. Sometimes helping others is taking
three hours out of our time to help those we can reach here and now.
Working with children through an outreach program called AWANA has allowed me
to be a shining light in a shadowy world—without flying halfway
across the world. The goal is to reach out to children of every age,
religion, race, and class, and plant a seed of hope in their hearts
before the corruptness of reality has a chance to hinder their
spirits. Serving in AWANA has not only provided me with the
opportunity to be a light in the dark, but to train those younger
than me to do the same.
Three hours a week, thirty weeks a year, five children—boys and girls
anywhere from five to eight-years-old—are my responsibility. In
this time we play games, listen to stories, and memorize encouraging
scriptures and truths they can hide in their hearts for a lifetime.
Challenges appear in every form; sickness, discouragement, and sadness threaten
to obstruct the goodness meant to be accomplished. As a leader,
sometimes I'm put in positions I'd rather not be in, having to
correct and discipline others or even just carry out responsibilities
I'd rather not have to. The worst days are when I question the
worth in what I'm doing, when I doubt the difference I'm actually
making. But at the end of the day, after watching each and every
little girl and boy leave with a smile on their face and joy in their
hearts, I depart with the satisfaction of knowing there is no room
for evil when hope is present.
Witnessing the world steadily become worse, I'm driven by a faith that things
can change through the people that care. In my experience of
volunteerism, I've learned that no act of selflessness is too
little, nor is any person too young, too inexperienced, or in any way
incapable of carrying it out.
My prayer is that in the years to come, when the pain and heartbreak and
dejection surely strike with wicked intentions, each child will
recall the uplifting truths they've learned through AWANA and
aspire to spread their own love to others.