Name: Skylar Nicole Riddle
From: Lexington, NC
Grade: 11
School: North Davidson High School
Votes: 0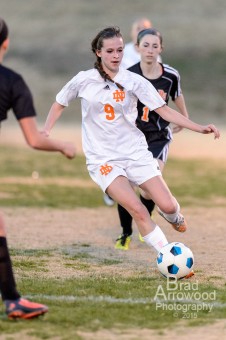 TOP
Soccer
TOP Soccer is a program that has been re-launched in Forsyth County, NC by TCYSA where I have played soccer for three years now. I was interviewed for a position on the program's leadership board and was one of 12 chosen to represent TCYSA. I have played soccer for 13 years and it is a huge part of my life. Soccer is like my get-away from reality. I turn to the sport when I am stressed or just need a break. When I heard about the re-launch of this program, I was immediately intrigued.
TOP Soccer is a program design exclusively for children with physical or mental disabilities. We worked around the community to invited children from specialty schools and other organizations for children with disabilities. We created a flyer to post around the community and worked with a designer to develop a logo that incorporated the logo from the soccer association along with the TOP Soccer logo to make the children feel like they were a part of something bigger. We gathered volunteers to assist with our "sessions" and consulted other coaches within the soccer association to help think of drills and activities that would help our participants become more involved with soccer. For one "season" the participants have 8 sessions, one per week. Every week, I spend about 4-5 hours working on TOP Soccer.
Anytime you work with children that have specials needs there are going to be challenges. Having enough buddies was a potential challenge for us. Luckily with TOP Soccer, we were able to round up enough volunteers to assign every participant a "buddy." We tried to assign each board member to a participant, but because we wanted to implement consistency throughout the 8 week season, we sometimes had to give two buddies to some participants, because all board members are active athletes and most are actually in-season. The only other challenges we have had to face have to do with children in wheelchairs or walkers. Of course, because soccer is played with your feet it is even more difficult to accommodate to these children, but we make it work.
Seeing our participants smiling and laughing and having so much fun, even if it is only for an hour or two ever week, is a huge reward. Being able to provide these children with an opportunity that they probably wouldn't have had without us is the sole reason why the program was re-launched. Every single volunteer from the TOP Soccer program istied to soccer in some way. Personally soccer has made such a largeimpact on my life and it's only fair that I share the joy thatsoccer brings me with others. From volunteering with these children, I have learned to be more patient and to be more open to other'sideas and thinking. Working with these children made me more thankful for having the ability and opportunity to play the sport I love. My problems all seem so minute when I'm playing soccer with the TOP Soccer participants. I couldn't be happier to be a part of such an extraordinary program.