Name: Eden Stauffer
From: Fort Myers, Florida
Grade: 12
School: Riverdale High School
Votes: 62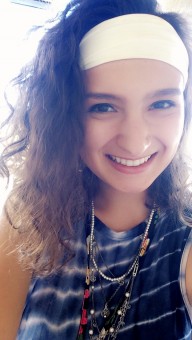 Throughout my relatively short time on earth in comparison to the grand scheme of life, I have
learned a lot about God, the world, and myself. One of the key truths
that I've come to realize, is how vital it is to live in the here
and now. Sure, my past has grown me into who I am today, and the
future is who I will be stretched into being tomorrow. But if you
lose sight of what's right in front of you, the past will drown
you, and the future will blind you. For the sake of eyes other than
my own, I suppose it is important to mention what has first sculpted
me into who I am today, despite this truth about how I personally
should look at my life.
Achievements and setbacks. These are the entities that consist of everyone's
life, no matter how successful or good one individual's is compared
to another. Concrete achievements I can name include earning and
keeping the position of first chair in the cello section of my
orchestra starting in grade school through high school, starting a
club to bring support for those devastated by Hurricane Sandy in my
community, winning the Morris County Leadership Award in part because
of the previous accomplishment in middle school, being ranked as
number one in my class grade-wise during freshman year, and winning
the title of a class officer in the student council through my
sophomore and junior years. National Honor Society, Spanish Honor
Society, and High Honor Roll are some of the labels that I wore
physically. Labels, however, aren't always carried with you.
I am undoubtedly nowhere near perfect and have had countless problems
in my life, but if there was one, specific major setback that I think
is worth mentioning, it would be the move my family made from New
Jersey to Florida in the middle of my junior year, last year. It was
one of those 'movie moments' where the parents sit the child down
and say, "We need to talk." Those upcoming last weeks at school
and church were emotional to say the least, and upcoming months in a
strange place were certainly disconcerting. I faced the fact that the
labels that I or others had placed on me meant nothing to people who
had never even heard my name before. In the simplest way put, change
is hard, but change brings growth.
Now, because of my setbacks and struggle to identify who I am as a person,
I have discovered more of who God is and who I am as a daughter of
Christ. The achievements I now care about most and am living out
currently are those which help me be the best version of myself that
I can be, so that I can shine a glimpse of the light of who God is to
others. I find myself feeling at home in a church where I spend
countless hours serving my community week in and week out. I get to
use my musical talents for a greater purpose on the worship team,
playing cello and bass, love for children in the kids' area,
teaching a 4 and 5 year-olds classroom, and passion for young girls,
mentoring small groups. Aside from my Sunday mornings and Wednesday
nights spent volunteering at Next Level Church, I full-time dual
enroll at Florida Southwestern State College and work through a
retail job and nanny job. I strive to do my best in all aspects of my
life, being the same, genuine person in one sphere to another.
As mentioned, I don't like to focus too much on the future because it
makes me worry. The unknown can be frightening. For example, my
family is not in a place to support my schooling financially, and
even though I know I want to get a degree, I don't know exactly
what my future career looks like yet. However, above all, I know that
I am called to full time ministry. There is no other purpose I can
see for my life than to help people realize that there is a God out
there that loves them unconditionally. So, I will live today knowing
that my future is in good hands. Day by day I start to see new
passions of mentoring and counseling come from my experiences leading
in my youth group and interests in the field of psychology through
learning in classes at school. Because of this, my current plan is to
intern at the Next Level Leadership Academy to discover my purpose
more and to take classes to get a degree in psychology at Florida
Southwestern or Florida Gulfcoast University.
Overall, my goals and plans for the future are to pursue what God has for me
with all that I am, and I am who I am not just because of my
achievements but also because of my setbacks. A friend once explained
it to me this way: life is like light house. The difficult times are
when you're walking up those grueling steps, until you painfully
but finally reach the top. At the top, you are able to see
everything, and this new perspective helps you to give light to other
people and shine light on who you are. However, you don't stay at
the top. Something like a hot air balloon gently carries you back to
the bottom, where you get to take that deep breath before you start
all over again. Life is full of seasons, good and bad, but the
seasons of my life have made me into who I am today.