Name: Grace Dearing
From: Cincinnati , OH
Grade: 11
School: Mother of Mercy High School
Votes: 182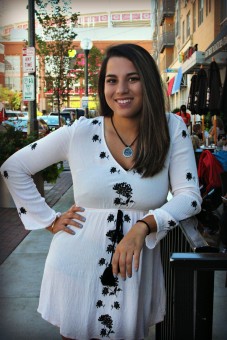 Turning
a House into a Home
Growing up in Catholic schools, volunteering has inevitably always been a part of my life. However, I have embraced this area of the Catholic education system, instead of seeing it as a burden required by my principal, like I've seen so many people do. This past summer, I decided to focus my volunteer efforts on families with sick children. I currently spend 2 hours a week at the Ronald McDonald House in Cincinnati, Ohio. Families from all over the world have travelled to Cincinnati to provide the best health care for their children at Children's Hospital. They have come so far from home that they need a place to stay. Rather than making families pay to stay in hotels, Cincinnati Children's Hospital has teamed up with the Ronald McDonald House to provide free living facilities to these families.
As a volunTEEN at the house, it is my job to make sure the house stays as clean as possible. I spend two hours every week cleaning libraries, vacuuming play rooms, and straightening the endless amount of toys strewn throughout the house. As a teen volunteer, I do not have direct contact with the children living at the house and this has been the biggest challenge for me. I see the kids walking about and am able to have a small conversation before they're whisked away to yet another doctor's appointment, but I am unable to create bonds with the residents. As the oldest of three, and a babysitter for many families throughout my parish, not being able to interact on a personal level with children is a very difficult task to ask of me. However, I understand that it is not in my job description to be a caregiver for these children as I am not familiar with their situations. So, I respect my boundaries and instead focus on how I am indirectly making a difference in their lives.
When I first began volunteering, the director of volunteers said to me, "This is their home, we're just the staff to make sure everything runs smoothly." This has been my favorite quote to hold on to as I continue my volunteering at the house. I love knowing that I am creating a difference in the lives of so many families, even if it is behind the scenes. Knowing that I am relieving them of the everyday stress of housekeeping is what motivates me to continue to volunteer every week. Volunteering at the house has taught me that good deeds and good service can happen quietly and indirectly and still make just as much of a difference in someone's life.
As an aspiring journalist, my volunteer efforts at the Ronald McDonald House don't necessarily prepare me for my future career. Looking forward, I see the long-term effects in what I hope to see in my personal life. I would like to be a mother some day and seeing the unconditional love, care, and support that the volunteers have for the families and the mothers and fathers have for their children at the house has been such a great example to look up to. I hope that I can bring this sense of love and acceptance into the world so that
people will realize that we are all deserving of respect and love, regardless of how different we may seem on the outside. Through
volunteering, I have realized this key fact of life and I want to be able to teach that important lesson to as many other people as
possible. In fact, I may even be able to write about this touching experience as a journalist one day. In thirty years, I will look back
on my volunteer experience and know that I personally helped to make a difference in the lives of the families living at the house. It may seem like my volunteer work is so small right now, but I know that while i was worrying about the housekeeping responsibilities, the families were able to focus their attention on their all-important sick children while I took care of the less-important details.