Name: Victoria Hilles
From: Eagle, Idaho
Grade: Senior
School: Idaho Fine Arts Academy
Votes: 0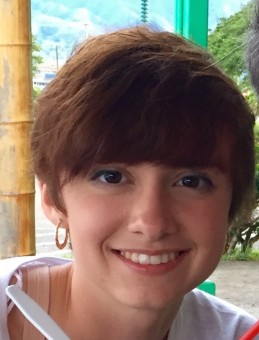 Using
Technology to Instruct, Lead, and Inspire
The spotlight wasn't for me. The only volunteer positions that seemed available
in our church were singer, teacher, and other positions that required
oratory skills–skills I don't have. One Sunday, the church
advertised open technological volunteer positions. I applied quickly,
since I am technologically savvy. I received training in running
slide shows, listening to lighting cues, creating mixes for live
worship, manning several cameras at once, etc. It is a work that
requires focus and a quick wit. Despite its difficulty level, I love
it. I communicate with pastors, worship leaders, and other church
members behind the scenes, in much more intimate settings, like
rehearsals, building good rapport. The best part about my job is that
I am able to leave the spotlight to the worship experts and speakers,
while I work behind a booth, controlling lights and visual aids.
Since my first time volunteering in the spring of 2015, I have served
approximately 160 hours. The most challenging aspect of my volunteer
position is learning to roll with the punches. With a checklist
nearly two pages long each Sunday, full of tasks to complete, it is
easy to get overwhelmed. I have learned that I do not need to be
perfect in my execution of these tasks. In fact, there is no way I
can be perfect. I may miss a slide cue or lighting cue, but
those giving the cues show me grace anyway. This treatment has
exemplified the Lord's grace towards us. He is the sole reason we
are toiling away in the booth after all. I receive the most
satisfaction from my friendships with other volunteers, laughing at
mishaps that happen during the service, throwing volunteer parties,
and helping each other during services. My service to my church is
"forward-looking" in the sense that it is preparing me for future
employment. Someday, I will be learning a new line of work. The
general skills I learn from my work here–communication,
attentiveness, punctuality, organization, and responsibility– will
certainly follow me into my future professional endeavors and mold me
into the God-fearing career woman I have always strived to become.
The change I hope to initiate in this world is an increased
volunteerism in the Christian church. It is easy to simply go with
the motions, go to church each Sunday, and think that is enough.
However, what makes church worth going to is fellowship with other
like-minded believers. A church body that serves together,
fellowships together. Not only that, the church leaders expend a lot
of time and energy to bring Christians together. Service is a great
way to help alleviate the burdens that can make running a church
drudgery, instead of the celebration it should be. It is our job as
Christ followers to extend his love and service to others. In thirty
years, I hope to see a connectedness and unity in our church body and
a heart for service in each of the church members.