Name: Madison Tyler
From: Murrieta, California
Grade: Junior
School: Vista Murrieta High School
Votes: 0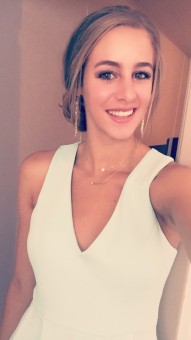 I have helped in my community in many ways throughout my years of high
school. I was heavily involved at Prestige Dance Company, and my team
and I would always participate in Race for the Cure; some of us would
be cheering, some would be walking, and some would be running. For me
personally, I liked to cheer for the walkers, and runners because I
love to encourage people. Also, this past year, my cheer team hosted
a cheer competition at our school. The night before the competition,
my team made encouraging posters and hung them up all around the gym,
set up the mats, and cleaned the bleachers. The next morning we came
four hours before the competition began and set up the food stands,
and vacuumed the mats. During the competition, we helped teams get
into the warm up room, then to the stage to perform. We made sure
that the judges had food and water, and that all of the guests felt
comfortable. I also have assisted a dance class for two years. As the
teacher's assistant, I would demonstrate techniques for the younger
girls, and help them learn how to properly execute them. I have
volunteered for over fifty hours since my freshman year. The biggest
challenge as a volunteer is making sure that I am doing everything
that I am supposed to be doing, and making sure that I am helping
enough. When I was helping the younger kids dance class at my studio
it was very hard to keep fifteen eight year olds quiet, and make sure
they were paying attention. The biggest challenge in cheering at Race
for the Cure was standing up for five hours but it was still a fun
experience. Seeing people happy with my work has given me the most
satisfaction as a volunteer. I love to see the breast cancer
survivors running in the race and looking healthy. I also love to see
their smiles when I am cheering them on. The most satisfying thing
about helping in a dance class is seeing the girls finally get a new
technique for the first time. They get so excited, and do it over and
over again and that makes me so happy. I have learned that helping
others without a profit feels good. Knowing you are doing something
good for the community is such a great feeling, and it is not always
about getting paid.