Name: Alexus Renee Redditt
From: Macomb, IL
Grade: 2016-2017
School: Western Illinois Unniversity
Votes: 0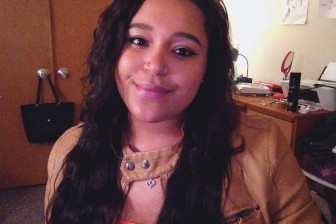 Alexus
Redditt
Volunteering
for Change
Hi my name is Alexus Redditt and I am a sophomore at Western Illinois University. I am a member of Wave, which is a volunteer group at the university that I attend. They give us a whole bunch of places to volunteer at. I was so excited to see that they had the crossing thrift store on the list. The area that I have chosen to volunteer at is the crossing thrift store. It is a part of the church named the
Crossing. I attend this church on Thursdays and it is so amazing and very welcoming. This is part of the reason why I chose to volunteer
at this thrift store. I want to be able to help them out with whatever they need. I volunteer here for an hour a week every Tuesday. I recently started volunteering at this place so I have four hours done so far, but I want to continue to do this next semester as well.
My responsibilities as a volunteer at this place is to hang up the winter clothes on a rack that they provide. The clothes have to be in size order as well. I have to make sure that I don't put any summer clothes up because it is winter now. I haven't faces any challenges
so far, but if I had to think of one it would probably be actually attending. Whenever I arrive at my dorm room and lay on my bed, I get
very lazy because my mattress pad is so soft. Every Tuesday when I have to attend this event I always get up because I know that I am
doing a good deed for someone and myself. It may be hard for me to get up sometimes but I always do. What has given me the most
satisfaction is finishing my task and actually attending the event. It makes me happy seeing that I have finished my task and now someone could do a little shopping for the cloths that they need. Overall I have learned that for me personally, helping people and getting
involved makes me feel good about myself.

           When I look towards my future, I see that my activities around campus can shape who I am for my future. Looking at the term "looking forward" to me seems to be looking into the future and what I want to do with my life. The change that I want to seek in my world is to have more people help volunteer. I want to be a part of the wave leadership board next year. I want to motivate people to want to attend these different volunteer opportunities. I think that if I ever did come back, I think that my volunteer activities would have made a difference because when people have seen me volunteer they would want to as well.