Name: Joshua Contreras
From: Frisco, Texas
Grade: Sophmore
School: Collin College Community College
Votes: 0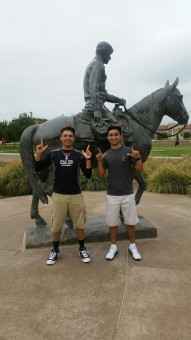 Volunteering

            Volunteering has always been a passion of mine for as long as I could remember. I was blessed with a great family that would often spend weekends and some holidays helping out in the community and giving to those less fortunate. Many of these events were supported by my church which made volunteering even more gratifying to participate in. My parents would always remind me of how blessed we were to have what we have and live where we live. I took all of their words to heart and carried their love for volunteering to high school and now in college.
I am currently in my second year at Collin College and I have enjoyed being here. The teachers are amazing, the students are friendly and the standard is set high for all of the students here. But what I really love about this school is their love for volunteering. Collin College has a site where you can find volunteer work and help those who really need it. There are so many different places to give your time to as well as non profit organizations. This website really gives students the experience that is needed in almost every job
atmosphere out there after college, plus they get the privilege to help and serve those who need it.
While on the non-profit website I found a listing for volunteers in the American Red Cross organization. I had always heard of this group that would help out the family's and community after major natural disasters. I filled out the paperwork and later that week was contacted by a representative that would give me my options on what I could volunteer in. What I didn't know is that the American Red Cross actually helps out in so many other places besides the natural disaster team. From child care to picking up trash on the street, the American Red Cross could be found anywhere in the community and world!
I knew that the American Red Cross was the perfect organization for me. I happily joined the DAT (Disaster Action Team), where in the case of there being a natural disaster or a fire in the area that the fire department needed help with we were there to help in any way we could. I truly love this organization and my role in it. I currently only participate about once a month due to school and work but I have really found a passion for helping in the community. I have learned how to work as a team and be a leader as well as being responsible enough to be trusted in times of distress for many family's and be a support system to them.
I hope looking forward that my actions would not only impact myself and my future career as a coach but to impact those around me and give them hope looking forward. If I were to come back in a couple of years I know that my actions and hard work would have left a mark in those family's lifes and the people that worked around me. I truly believe everybody should experience giving back and volunteering. It really gives you a satisfaction that nothing else in the world can give you.
Thanks,
and God bless.