Name: Claudia Lyons Michaels
From: Charlotte, NC
Grade: 11
School: Cannon School
Votes: 0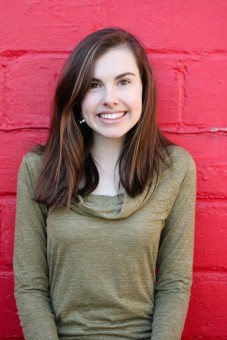 Volunteering
by Numbers
101 carved pumpkins lit by 900 LED lights on a 30 foot wide wall and
$4,266 raised for FARE (Food Allergy Research & Education), a
national organization spreading awareness about life threatening food
allergies. 3 presentations at national food allergy conferences in
Washington, D.C. and Milwaukee, Wisconsin and 56 jars of food allergy
friendly products collected for Hurricane Matthew victims in North
Carolina. Hours, years, of writing blog articles, filming
educational videos and interviews, volunteering and speaking at local
fundraisers and walks, and petitioning for legislative support. I
volunteer for FARE because I have severe peanut and tree nut
allergies and I want to give back to the organization that has
boosted my self confidence and shown me that I am not alone.
FARE has not been my only volunteering gig. For the past five years,
volunteering has become my life. It started at my local public
library. I love reading, and my grandma is a librarian, so I thought
it might be fun to spend my summer volunteering at the library. The
next summer, I continued at the library, but also started working at
the hospital, too: I thought I might be interested in pursuing a
career in the healthcare field and wanted to test it out. I fell in
love with that job, too. Throughout high school, my summers were
consumed with running storytime programs for children, shelving and
pulling holds, training new volunteers, and assisting patrons in
finding books at the library, and being a secretary for a nursing
unit, transporting patients to new units, distributing medical
equipment, and checking in on pediatric patients.
Service has molded my personality, and it shapes everything I do. At my high
school, I am a "service prefect" and I am responsible for
organizing school-wide service projects including food drives,
fundraisers, and kindness campaigns. I am trying to become fluent in
Spanish so that I can reach out to more people. This endeavor has
already paid off at the hospital, where I am often asked to speak to
Spanish speaking patients. When I go to college, I intend to study
public health so that someday I will be more fully equipped to assist
refugees, victims of natural disasters, and people afflicted with
infectious diseases. My bookshelf is filled with nonfiction tales of
tuberculosis, AIDs, and Ebola, and I want to add my own tales
someday. In 20 years, I hope that I have put in 5 times more hours,
raised 5 times more money, and reached 5 times more people as I have
in my 5 years of volunteering. I hope to explore new causes and give
back to more communities around the world.