Name: Axxel Pasos
From: Hesperia, California
Grade: axxelpasos@gmail.com
School: axxelpasos@gmail.com
Votes: 0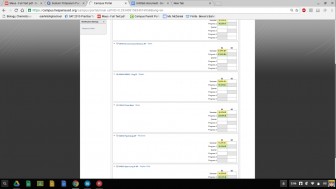 Volunteering, it is something that in today's youth don't want to do it. They
think of volunteering as extra work, and is something that interferes
with their life. I see it as a way to change one's life for the
better. It brings the person good skills in a work environment and
makes him or her feel great about themselves. It also a way to
compete with others when applying to colleges. Volunteering can
impact the lives of those that are receiving the help big or small,
it also help him or her get involved with your community. I think
that more people should be more involved in volunteering, it is a
great way to teach yourself about life.
Volunteering can help with get the person more work experience and make the person
feel good about themselves. It brings works experience through going
to the event and participating in any activity that helps out. When
completing the job it gives the person a sense of well being about
doing good in the community. I know this because that is how I feel
whenever I am volunteering I get a great sense of accomplishment and
feeling that I have done something good when it is done. My friends
from my AVID (Advancement Via Individual Determination) feel the same
way when they volunteer for a local churches or middle schools.
Volunteering can also help you get into to college and compete with others that
are have higher grade point averages. It can also get you
scholarships that can help pay for tuition in college which will
help. Seniors from our school have gotten thousands of dollars just
from volunteering and helping the community. Volunteering can make a
big difference for everyone, either by helping the person compete
with others or get a some money for college. High school student that
do not volunteer are just wasting an opportunity to further their
education in a greater way.
People think it is just an inconvenience for them but it is a great way to
get involved with the community and help better it. The opportunities
for the service are every in the community, the person just has to
take the small step to look for them. The ways the community can be
bettered are feeding the homeless or joining a clean up of the city.
A better way to be help in the community is create something that can
help, take the step and initiative to create something for the
community. I have done some community service that created cheaper
food and free food for families that can't afford food at
supermarkets.
I think youth should start volunteering early in life, or get in
programs that can give volunteer experience. It is a helpful way to
gain work experience and feel good about yourself that you have done
something good. It is also a good way to compete for colleges and
possibly get a scholarship. Volunteering is just something good for
yourself and community