Name: Suzanne Jane Pickens
From: Bell, Florida
Grade: 11th
School: Bell High School
Votes: 179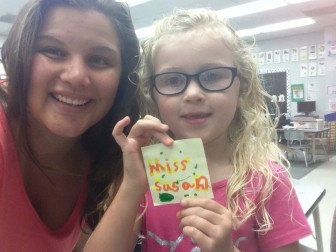 I volunteer at our elementary school's youth programs throughout the year. I chose to volunteer here because I am very passionate about teaching and giving children an education to better them for the future. Throughout my high school career I have volunteered 327 hours, usually at least one time per week. My responsibilities as a volunteer are to help kids with homework and give help and advice to complete their task effectively and correctly. Also, on Thursdays I read to kids who can't, for example kids are graded on AR (Accelerated Reader) points in Florida, Kindergarteners who usually cannot read by themselves are still graded and expected to get these points. I help the kids whose parents may not be able to come to
school and read to them because of jobs or location close to the school. My biggest challenge as a volunteer is balancing school sports and extracurricular activities such as being the senior class secretary, on yearbook, a dual enrollment student and also being on the varsity girl's weightlifting team, but I manage the best as I can. Watching kids such as a little girl I got to help on Thursdays get to go to the end of the year AR party for having over sixty points that year. She was so happy and ecstatic I was glad that I got to help her feel so proud of herself and give her the confidence that she could do it again next year. In the future I hope to see more people volunteer as I did and in a few years comeback and see what all the student I helped have accomplished in life.