Name: Noah Durnell
From: Great Falls, Montana
Grade: 12
School: CMR high school
Votes: 105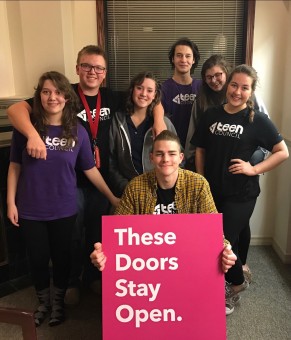 The
Ripple Effect of Volunteering
By
Noah Durnell
Volunteering is like throwing a rock into a pond, because the impact of the rock will make the water ripple out, touching the whole community. This is exactly why volunteering in my community is so important to me; volunteering in simple ways can have everlasting effects in your community. For the last two years, I have volunteered two hours every week with Teen Council Planned Parenthood Great Falls, an organization that advocates for healthy relationships, safe sex, and inclusiveness of people of all races, genders, and sexualities. I initially became involved with this organization due to my passion for LGBTQ advocacy, and Teen Council has more than satisfied that passion. As a volunteer for this organization, I do two major things: I learn Teen Council's advocacy platform, and use what I learned through Teen Council to educate my peers and students in other schools throughout Montana. As a volunteer who advocates for Planned Parenthood, I face a challenge trying to appeal to those who take a strong political stance against the organization. This challenge, however, has opened me up to a new understanding of the diversity of opinions and advocacy amongst other teens. Volunteering with Teen Council is all the more satisfying in that I have a chance to not only learn, but also teach high school students about what a healthy relationship should look like and how to promote safe sex to their peers. Every time I teach, I learn something from the students that I am teaching, which I can use to grow as a teacher, as a volunteer, and as a person.

           As graduation nears, I have decided to pursue my interests in medicine and teaching by striving to become a gender reassignment surgeon, which demands about fourteen years of education. Though this education is lengthy and difficult, my volunteer work with Teen
Council has taught me to chase whatever inspires me, regardless of the challenges I face. Teen Council has likewise taught me that in
whatever I do, I can still be an advocate. Being a gender reassignment surgeon is forward-looking to me because we live in a world today where transgender people face terrible discrimination. In this career, I can help eliminate the stigma of being transgender,
while still following my interest in medicine. This type of forward-looking social progression is what Teen Council is all about, my volunteer work has inspired me to fundamentally change our social structure.
Knowledge is an investment worth sharing. Teen Council gave me the rock which I could throw into the pond. When I look back on my volunteer work decades from now, I will see that it has made an everlasting difference on the type of person I am, a resounding impact on my peers, and a rippling effect on the world.