Name: Zimira Harrison
From: Fair Oaks, CA
Grade: 12th
School: Del Campo High School
Votes: 0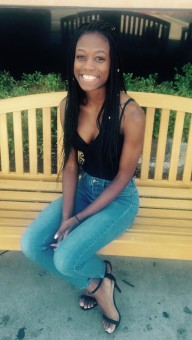 Zimira Harrison
05, September
2016
Throughout my high school experience, I have put myself in many situations where I
have volunteered to help my community. I consistently volunteered at
the public library every week, for approximately 4 hours, in my
community and managed to even receive an award from the president for
working more than 100 hours total. Every year, I also volunteer at
the California Council of the Blind Mutt Strut. In the cases in which
I've volunteered, I have worked in groups of people as a team to
accomplish and reach a common goal. I chose working in these types of
activities because I not only like working as a team, but I also like
putting in my input and being a helping hand.
As a volunteer at Sylvan Oaks Library, I went to the teen meetings on Tuesdays in
which we would discuss events that would take place in the future. At
these events, I would volunteer to set things up as well as
participate in some of the festivities. Aside from that, I also
assisted the librarians with work such as labeling new books. I
usually worked two hour shifts, and for the most part I would put
books back in their proper place to keep the library organized and to
make it easier for people to find the books that they wanted to.
However, my favorite part of volunteering at Sylvan Oaks was tutoring
children from preschool to the 8th grade. I found tutoring
to be extremely fun and I always felt productive and beneficial when
I could see the smile on the kids' face once they understood the
concept at hand.
My biggest challenge as a volunteer was when I had to help children whose first
language wasn't English. I knew I had to be patient and try my
hardest to help the child understand because I felt as if their
homework and grade was partially in my hands. Being a volunteer and
working with people has showed me a lot about myself and has changed
my perspective on my career and major in the future. I've learned
that I really enjoy working with people who are younger or disabled,
therefore I plan on majoring in biology to become a pediatrician.
Looking towards my future, I see my volunteering activities as forward looking
because I started them at such an early stage compared to my peers.
Forward looking to me is looking at ones' future beforehand and
determining what will make them successful. A forward looking person
is characterized as bold, ambitious, goal-driven, and innovative, and
I believe that volunteering has helped shaped me into this type of
person with goals and dreams to be auspicious. If I were to be 30 or
even 50 years old, I could look back on my life and say that I've
made a difference, whether it's small or big. As long as I know I
am capable of making a difference, I will feel useful and beneficial.