Name: Rocio De Anda
From: Sylmar, California
Grade: 11
School: Sylmar Charter High School
Votes: 0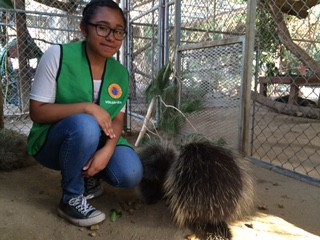 Volunteering
is Life Changing
Not lots of students take in to consideration how much of an opportunity volunteering is. Volunteering is a way to help those that are need whether it is helping sick people in hospitals or volunteering in a local animal shelter. Volunteering is not as simple as just helping around for one or two hours; volunteering can be life changing. For me volunteering gave me a way to explore my options on careers as well as, tested my morals.
Since I was a child, around nine years old, I remember going to volunteer with my older sister at church. We helped feed the needy. Seeing these people who had so little while I had a roof over my head, a caring family, and food on my plate every day opened my eyes even at that young age. I became more appreciative of what I had. Even now at the age of sixteen when I am ungrateful, these past experiences help me realize that I should always be grateful for what I have. There is always someone who has less than us; even if all we have is a penny.
Volunteering at church was just the start of my love for volunteering. As soon as I turned fifteen I applied to my local animal rescue, Best Friends Animal Society. There I helped to interact with dogs and cats. I helped change up their day by taking them out on walks. I will always remember the face of each dog when I came before the kennel with their leash in my hand. In their eyes, you could see the relief wash over them, they were finally getting the human attention they needed as well as, being taken to their escape from the loud stressful noises of their surroundings, the playground. Helping these cats and dogs at BFLA showed me that while I loved helping humans, I wanted to help those that did not have a voice.
In order to expand my experiences, I began searching for other types of volunteering opportunities. My sister suggested that I apply to the Wildlife Learning Center. Right away I emailed them for an application, and they soon took me in as one of their new volunteers. Right away I fell in love with their environment. I got to interact with lots of their animals including their many reptiles, foxes, tortoises, small animals, and porcupines. However, volunteering with them thus far has not all been fun and games. The biologists have showed me that to care for animals it is not all human interaction. I had to do some dirty work, such as pick up feces, clean crates, wash dishes, and help clean around the center.
Volunteering can easily be taken by others as a waste of time, but for me I don't volunteer because I must; I volunteer because I love to. I have matured with volunteering. I now have responsibilities that I didn't have before such as, showing up to my weekly shifts. Volunteering has formed who I am today, and I will always be thankful for that.