Name: Ian Robert Ferris
From: Edgewater, MD
Grade: 2015-2016 I was a HS Junior; this school year, 2016-2017, I am a HS Senior
School: South River High School
Votes: 229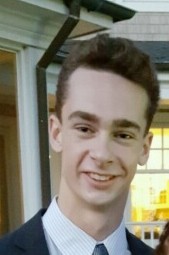 Throughout my life, I have done community service and volunteer activities for a myriad of organizations. I have: been a volunteer swim instructor through the local City of Annapolis Splash program (swim lessons for inner city kids) and with the younger age group swimmers on my local summer league swim team; made and served pancakes for the annual
church pancake supper; picked up trash for the Rotary club's annual Bay B Que charity weekend; cleaned litter boxes and taken care of animals at the local no-kill cat shelter (the Rude Ranch); annually collected and sorted donated food for the local food bank through Scouting for Food; filled Christmas stockings for the Salvation Army; made meals for the Lighthouse Shelter residents (local homeless shelter); collected pet food and pet care items for the local SPCA; collected old winter coats for the local winter relief; prepared and served meals for the local homeless winter relief through our local
church; collected new, unwrapped toys for local Toys for Tots programs; collected used books for a local library program; for 6 years volunteered at my local Cub Scout Day Camp by running a "station" teaching Scout Skills such as flag etiquette, knots, campfire cooking, and skits and jokes; and finally, participated in many Eagle Service Projects such as building or refurbishing walkways, ramps, kayak racks, meditation gardens, and playgrounds. All told, I would estimate that I spend an average of 5 hours per week volunteering in various capacities and for various causes.
I feel such a commitment to volunteering and service that during high school I have participated in the Relay for Life, joined my high school's Key Club, did physics tutoring through the high school's National Honors Society, and with my friends founded the South River Charity Club. In addition, as part of my interest in the field of biomedical engineering, I have volunteered over 150 hours at a local prosthetic clinic helping to construct and fit artificial sockets, legs, and arms for patients.

Through all my volunteer work I have realized that you can find joy in giving back, even though at first it can seem like it is taking away from your "personal" time. There is such a sense of satisfaction seeing a smile on the face of the people you are
helping. Volunteering has shaped my outlook on life by realizing that not everything is how it seems. You don't always know when people have a need that you can fill. People are generally proud and would not necessarily be public about what they need. Even the simplest act of charity or helpfulness, even like holding a door open for someone, can help them through the day and make a difference. I hope that even 30 years from now my volunteer efforts will have made an impact on a kid that learned to swim, an Eagle Scout project that has improved a community, or a person who could walk again through a
new prosthetic that I helped make!