Name: Destinee Fernandes
From: LaVerne, CA
Grade: 12th
School: Lutheran High School
Votes: 52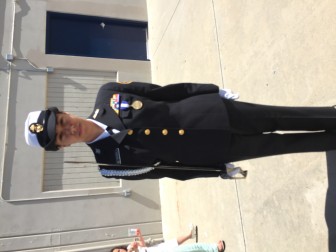 Want to be a Better Citizen: Volunteer
Why volunteering. I believe that being a volunteer is being a good citizen. What is volunteering? Volunteering is doing something without being paid. There are several different opportunities to volunteer whether it is for your church, your school, NJROTC, and the community where you live. I have had an opportunity to volunteer for all of these.
Every summer starting in my freshman year, I have been a volunteer at New Song San Dimas' Vacation Bible School as a student leader. I love being a leader for vacation bible school because I get to impact children's lives by helping them know the word of God. Since many of the attendees are new to the church, it provides us leaders an opportunity to make an impact in their lives. It is a week of fun filled activities centered on a key message that empowers the children to know they can make a difference in the world.
At my school, I have had the opportunity to volunteer for recruiting events to encourage middle school students to choose our High School. In addition, our school has a foreign exchange student program and I have been part of the special shadow days. This is where a student from China attends all my classes so they have first hand experience of our school and
the expectations. While this can be difficult with the language barrier, it has provided me the opportunity to learn another culture. It has shown me how brave these students are to attend a school outside of their country. One of my shadow students presented me with one of her favorite books in Chinese and English. It made me realize that as students we are not so different.
I have been a student in the Naval Junior Reserve Officer Training Corps (NJROTC) for four years. During this time, I have volunteered over one hundred hours of community service each year by participating in parades, Veterans Day events, Memorial Day events, and community service projects. Volunteering both on Veterans Day and Memorial Day is a honor because it allows me to show my gratitude for the soldiers who have fought for this country and my freedom. In addition, I was given the staff job of community service and activities officer, which required me to plan community service events for my unit.
I have been volunteering since 8th grade and it has brought me great joy. I love serving others because it brings them joy. I believe we all should volunteer to be good citizens.