Name: Alexander Lee Haggan
From: Farmington, Maine
Grade: High School Junior
School: Mt. Blue High School
Votes: 120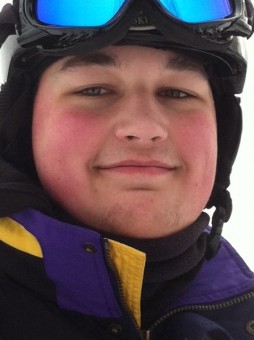 What Goes Up
Must Come Down

A little western Maine mountain has been the center of winter fun for thousands of local school children who have learned to snow ski. For the past three winters I have been privileged enough to be a volunteer ski instructor for just a few of those children.
Eight weeks out of the winter season children ranging from elementary grades to middle school gather on Saturday mornings for an hour ski lesson. They split up into small groups and are lead by an instructor. As an instructor it is my job to evaluate their current skills, teach the next level skill set and re-evaluate their learnings at the end of the season. I volunteer between three and four hours a week guiding these little skiers up and down the mountain.
The most challenging aspect of teaching skiing is incorporating children with varying levels of skills. Some kids have never been on skis, some had parents start to teach them and some are at the "hot dog" stage and don't want to listen to instruction. My greatest satisfaction comes at the end of the season when the re-evaluation takes place. All of them grow in some way. Their confidence levels increase and they are no longer afraid to fall down or ride the T-bar to the top of the mountain. They even pass me on the trails. I have learned so much from my volunteer experience, but it is really about giving back and having fun. It's about teaching a skill they will have forever.
I have a passion of flying airplanes that I hope to turn into a career path. The one thing that I can take with me on this journey is the ability to teach. A commercial airline pilot needs a substantial amount of flight time in order to fly with a major airline carrier. Most pilots gain those hours by teaching. I too plan on following that path. I believe that I'll find similar situations in varying levels of pilot training in my flight students and will be prepared to handle them.
Forward looking is a sightline into the future. I have a wide variety of interests and work experience which on the outside would seem pretty eclectic. But each one of those experiences can help me to look forward with multiple skills, which will lead to multiple opportunities.
Teaching ski lessons is a classic learning opportunity. It's a low tech way of getting off the couch during an otherwise cold and snowy winter season. The change I would like to foster in the world is that kids should still be able to be kids. Technology can sometimes get into the way of traditional exploration activities. There is a world on the other side of the screen and children should be encouraged to go out and find it.
Many years from now, I hope to come back to my home town and see my former ski students bringing their own children to our little mountain in western Maine.