Name: Jason Faro
From: Dallas, NC
Grade: College Freshmen
School: Gaston College
Votes: 0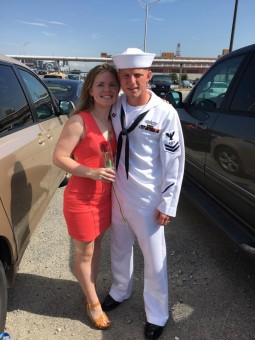 I enjoy volunteering within the community in a variety of ways. By
doing so, it allows me to showcase a broad range of skills I have,
and I believe that it also helps me gain the most training and
experience instead of just concentrating on one specific charity or
cause.
I have volunteered with the local Habitat for Humanity, and also a
Habitat for Humanity in Key West, Florida while my ship was docked
there during my time in the US Navy. I try to volunteer at my church
and assist them with youth ministries whenever possible. Through this
I have found that I do best with a little older children, as I can
talk to and have fun playing games with them. I am out of my element
when it comes to infants. Also, I volunteer with the area animal
adoption center. This is one of my favorite places to volunteer
because it is where my wife and I rescued our two pit bulls. I enjoy
being around animals, and I like to think that I am doing my part to
bring aid and awareness about pit bulls to my community. They're
not bad dogs, just some have been poorly trained by bad people. I
have volunteered at Relay for Life events in the past, and one year
my friends I even built a three-man float for a contest they had. I
also hope to begin volunteering as a Firefighter/Medic as I restart
my college career and begin working towards my degree for Fire
Protection Technology.
I joined the US Navy to do something bigger then myself. To not take a
job based on money or power, but to do something respectable and for
the good of the country I love so much. It is through my time in the
military, and also through volunteering, that I have my desire to
become a Firefighter. I think the words "helping others" gets
thrown around too loosely nowadays. I've heard realtors say that
they help others because they help them find their home. I've even
heard those that work in car sales say that they help people because
they provide them with a safe and reliable mode of transportation. To
me, these jobs are not really helping others within the community,
they're just saying that to make themselves feel better about what
they do. I believe that the people that really help others, that are
the true heroes within our communities, these people are Cops,
Firemen, Paramedics and EMT's, Doctors and Nurses, Veteranarians
and their Assistants, etc. These are the people that are really
making a difference and leaving a legacy behind. On the day I finally
get to retire, I want to be able to look back and say that I left a
legacy behind too. That I saved someones friend or loved one. That
without me, someone might not have lived. That I truly made a
difference in someones life and not more money for some Fortune 500
company.