Name: Joseph Naulty
From: Eastampton, New Jersey
Grade: Senior
School: Rancocas Valley Regional High School
Votes: 28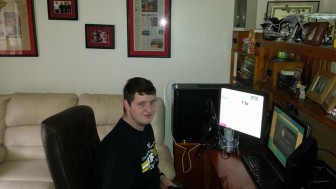 Why
I do it
              I've been a volunteer firefighter for four years now. I remember having just joined the department and being amazed at some of the senior members, one of which had dedicated over 60 years to the same department. During my time in class getting certified to fight
fires, one of the other students asked me why I had chosen to become a firefighter. It wasn't quite in my nature. I was always a
rather cautious, somewhat geeky person. I certainly didn't fit the archetype, although the stereotypical firefighter depiction is slowly
becoming as historical as bucket brigades.
             I remember not being sure myself. At the time, it was a sort of "why not?" At sixteen, my father, curious, asked if I wanted to do it. I said sure, and he dragged himself out of retirement.
Contrary to belief, the hardest task (at least for me) as a new Firefighter is not staring down a fire as it rolls over the ceiling. In fact, seeing a fire billowing out of the stack of hay used to train new firefighters and roll up to the ceiling is an amazing sight. The
hardest part was getting used to working with ladders, something I have never been comfortable with, even to this day somewhat.
Everyone says there is a moment when everything aligns for you as a firefighter. One call sets it all in perspective. For me, it was
when the man who had lost his barn thanked us for our service. We may not have saved the barn, but he was grateful for the attempt.
Everyone has a dream. However, at some point, these dreams are put aside as reality sets in. Firefighting has taught me that, while not everything is possible, it is surprising what you can do when you truly want to do something. I'd encourage anyone reading this to revisit what goals they once thought too distant to be achievable. With a well thought out plan and careful execution, one might just be surprised at how far he or she could go.
This summer I went back and took an EMT-Basic course. I passed and now run with the EMS department as well. As a student going into the medical field, this gave me a leg up academically. I'm happy I started out firefighting, as I learned a lot more about operating in emergency conditions than was taught in EMT-Basic. I believe, going into a field like Nursing or Physician's Assistant (I have yet to decide which), that these two courses have provided a proper background that most miss out on.
Some people are selfish. On the inverse, some are self-less. Going back to the core question, "why I do it," I do it for me. I don't
expect to save the world. It's something I enjoy to do. Plus, it furthers my professional resume, and, If I can help one or two people
along that way, I'd say I've lived an exemplary life.