Name: McKenna Ham
From: PHOENIX, AZ
Grade: 11th Grade
School: Desert Vista High School
Votes: 83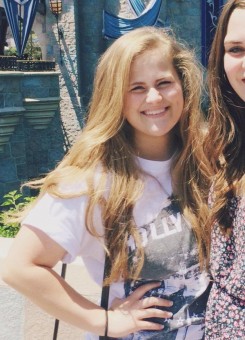 McKenna
Ham
Scholarship
2
October 2016
Youth
Forward Scholarship
Through hard work and dedication put into volunteering to help the community, you begin to feel like you have truly made a difference. Not only do you believe your help has affected others in amazing ways, those individuals also influenced you to become such a well-constructed human being. Helping out the community is so important because learning how to make a gracious change in the world will affect your future in wonderful ways.
An action that I decided to take advantage of was to help those of poverty and need. It is heart breaking knowing there are those in
the world that have no money, no food, and no shelter, and I wanted to see if I could help make a change in that. A program called
'Feed My Starving Children' or 'FMSC' helps create a fun environment for those who want to help make that beautiful change. I have
volunteered there about four or five times now and I hope to continue putting in work at that facility. FMSC is huge organization that
involves itself around feeding malnourished children, creating packages of food, and sending them to almost 70 countries worldwide.
Each meal costs less than 25 cents to make and more than 90% of the donations go directly towards feeding kids. The volunteers would
hand-pack meals specifically produced for malnourished children and once those packages of food are made, some of the workers at the
facility travel across the world to give meals to orphanages, schools, clinics, and feeding programs to break reoccurring poverty.

The biggest challenge faced when volunteering for Feed My Starving Children was communication with the fellow volunteers. Since I was working with about six to seven other individuals as a team, it was hard to make sure the correct amount of food in the bags. When this is occurring, you must shout to get the attention of others and to tell them how much food to put into the package. In addition,
keeping track of how many meals were made from the team is very important and can be easily messed up. There are about 10 to 20 other teams you are in "competition" with; your group wants to have the goal of creating the most bag of food possible. The most satisfaction I received when volunteering at FMSC was knowing I am truly making a difference in the world to help resolve the problem of poverty. I have learned that hard work means everything as well as working as team and doing your job in an efficient way.
To me, "forward-looking" in my life means having high ambitions and reachable goals for the future. I hope to achieve my goals and by
doing that, I will work my hardest and to my best ability. I want my career to benefit others as well as benefit me. Although my career
path will involve a health profession, volunteering will create an experience of assisting others and finding what best helps their
health and well-being. Looking towards the future, my volunteer activities would have made a difference because knowing Feed My
Starving Children is a growing program full of people who are willing to try their best to prevent cycling poverty, the assisting of others
will only keep growing stronger. The children we are helping today are so much better physically and emotionally thanks to the
volunteers of this amazing program.