Name: Kelsey Hagerty
From: Mt. Blanchard, Ohio
Grade: Senior 2017-2018
School: Riverdale High School
Votes: 0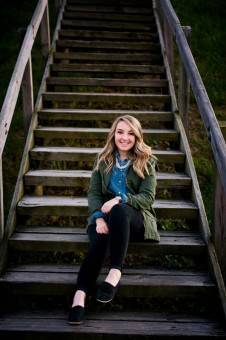 4-H Camp Counseling and its Impact on Myself and Others
Something I take great pride in saying is that I'm a 4-H camp counselor. To
me, nothing is more rewarding than 4-H Camp Ohio, and the months of
training leading up to it. 4-H Camp and camp counseling have both
changed me as person, for the better. This is a feeling I hope to
help continue for many years to come.
Being a camp counselor, I play a tremendous part in the running of the
camp. I've grown up every summer at 4-H Camp Ohio. I remember two
counselors that I wanted to be like and they are still role models
that I strive to be. They were outgoing, they made every camper feel
special, and were full of energy, along with camp spirit. Even now,
eight years later, I remember them. That goes to show how big of an
impact a fantastic camp counselor can make on a little camper.
I've always wanted to be a camp counselor there. The dream never changed,
and that's exactly why I became a volunteer through Hancock County
4-H. I chose to become one so I could make other campers'
experiences as great as the counselors before me had made mine. The
camp counselors have three hour long trainings twice a month, from
January to June, along with an overnighter. We plan the camp's
theme, the activities, the meals, and go through training. We have
fire, food, bed bug, and CPR training, along with training on abuse
and how to spot it. My responsibilities are to take care of twelve
girls in my cabin, eight campers at my meal table, and twenty campers
for our competitive groups. My biggest challenge as a volunteer was
watching over a little boy that had lost everything in a fire the
previous week. He was still very anxious and he wanted to be
everywhere but 4-H Camp. By the end of camp, however, I found him a
friend. Something I have learned from my position as a camp counselor
is that 4-H Camp isn't for everyone, but for most, it's a home
away from home.
When I graduate from high school, I'm majoring in Social Work and
minoring in Psychology. I feel that experiencing children's
different behaviors and backgrounds will make a difference in my
future plans. I see camp counseling as "forward-looking" because
counselors allow the campers to have fun memories at camp, and then
the campers want to become counselors. If I were to look back in a
few decades on the work I did as a 4-H camp counselor, I would say
that they were the best summers of my life.
I hope to continue the tradition of 4-H Camp for many years to come.
The memories and friendships made through 4-H Camp are priceless. I
am truly blessed to be able to fill out a position in which I am a
positive role model for kids and younger teens.