Name: Emma Sophia Catalina
From: Chelsea, Michigan
Grade: 10
School: Chelsea High School
Votes: 0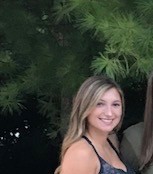 As
soon as I started my 8th grade year I knew my goal was to eventually
work my way into being Student Body president. Following elections,
the next four years of my life have been filled with volunteering to
make Chelsea High School the best it can be. I've earned my
position at the absolute top, Cabinet President, through hard work
and dedication to my school. Through Student Council I have run
dances, events, and campaigns all with the end goal of improving
student involvement and ultimately donating whatever profits are made
to a charity chosen at the beginning of every year. Such work has
grown to 4-5 hours a week with an addition of around 15 hours for
every event that is run, such as dances that require hours of
decoration building, set-up, and take-down. Volunteering for Student
Council is something I do from September to June. As president, I
volunteer my time by making calenders and agendas, running meetings,
supervising smaller branches, being present at all formal events(and
events to put them together), and helping wherever else is needed.
My
biggest challenge as a volunteer was most certainly the beginning of
the 2017 school year. The past advisor for four years decided to give
up her position and two first-year teachers took her spot. As this
transition was happening in the beginning of the year homecoming had
to be planned and it was my responsibility to not only put together
homecoming, but also assimilate the new advisors into the ways of
Student Council. Although difficult at times, seeing how much the
students enjoy dances, pep rallies, and events like Powderpuff make
it all worth it. Nothing feels better than when a student tells me
how much fun they had because of something Student Council put on.
From four years of experience I know I have gained the leadership
skills many people do not have, more importantly I have learned an
appreciation for volunteer work out of the goodness of the heart with
no incentive. Student Council has shown me a body of young leaders
who also have hearts that yearn to give back to the institution that
is securing their future success in life. If I came back in ten years
I am certain that my work in Student Council would be continued
because of some of the changes I made.
Although
my love for Student Council and the volunteer work through it is
strong, in my future I hope to pursue a career in economics.
Economics doesn't necessarily provide a great base for volunteering
through work, but my desire to give back won't simply disappear. I
hope to volunteer in "forward-looking" activities that better the
community that surrounds me and beyond. Out of high school I hope to
volunteer in work that works with the youth and the environment
because I believe in helping today to benefit tomorrow. I want to see
a world where volunteering is not looked at as a chore, but a
pleasure.