Name: Lamia Chante Alston
From: North Las Vegas, NV
Grade: Sophomore
School: lamiaalston123@gmail.com
Votes: 0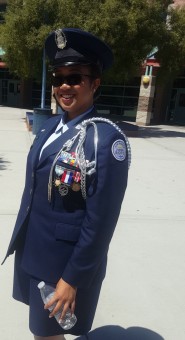 Lamia
Alston
North
Las Vegas Nevada
Shadow
Ridge High School
A Community Worth Serving
Many people ask me why I do it. Why do I dedicate my entire High School
career to an organization that may not benefit me in the long run, or
help me with my future. I'd look them in the eye and say "Happiness, it bring me joy to know
that I've been able to help someone out and make them happy."
Being a part of NV-20061 Air Force Reserve Officer Training Corps for
the last four years made a big impact of my life as a student,leader,
and citizen. No, it does not mean I have to join the service and give
my time after High School but however, learn from my experience as a
Cadet.
My Unit's Mission statement states: "To Develop Citizens of Character dedicated to Serving their Nation and
Community". It describes the countless hours and effort we put in as a whole and
dedicating it to our Community. I have participated in many community
service projects my Unit has offered such as, cleaning up the school
campus for an half an hour every Monday,volunteering at Fall
Festivals for Elementary and Middle Schools for three to four
hours,handing out drinks to runners during the Las Vegas Rock and
Roll Marathon and much more. For the past 4 years, the amount of
hours I have committed is roughly 250-300 hours total. Through out
the years, I've worked myself up to a high position in the Unit
were I help lead younger cadets on getting the job done.
As much as I love serving the community, it can get very time consuming.
A challenge I always face is that it takes time out from spending
time with my family on the weekends, or I would miss out on an event
I would like to attend but I always help the community first, like
the Air Force Core Values states:Integrity
First, Service before Self and Excellence in all We do.With
time restraints being a challenge, volunteering tends to affect my
time management and balancing with "cadet" and student"
however, it's worth what I do. Nothing is more satisfying than
benefiting someones day, time, even life. When I'm feeling down or
sluggish, a bright wonderful smile will always make my day when I
know the reason is no one but myself. Most importantly, it brought me
new friends,peers and most of all a family.
I have learned to be patient. Patience is the key to life and not many
realize how important that is. I learned patience because sometimes,
a plan may not go as planned and you always have to know how to work
through it. As well, when dealing with other people you have to learn
to make them happy no matter the cause and sometimes it takes a bit
of patience. Besides patience, I learned to value the little things
in life. Not a lot of people is as fortunate and that is why I give
back to the community. I feel that volunteering will help me as a
person by becoming open minded and humble as a person. I take what I
have experienced and use it for the better good of they career field
I choose.
I know my Unit will more than likely be forward likely because those
who ask us to serve, always wants us back in the previous years. As
well, with the great minds, we will expand on our dedication to
serving. With the many events going on in the world, it's
a community effort to help those who need it. At times like this,
community service bring people together and hearts and minds alike.
It will teach understanding for those one another in the future.