Name: Somone Winn
From: Houston , Texas
Grade: Freshman
School: Texas Southern University
Votes: 0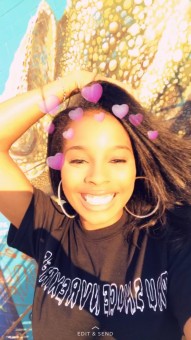 Somone
M. Winn
Youth
Forward Scholarship
A
Forever Commitment to Volunteering

After Hurricane Harvey viscously
ripped through the city of Houston and surrounding areas, for the
first time I was given a clear view of the impact of volunteering.
Buildings and homes had been engulfed in water resulting in over $150
billion in damages spanning across the state of Texas. More than one
million families were displaced from their Texas homes into shelters,
hotels, and neighboring major cities. Unfortunately, being ten
minutes away from Downtown Houston, where the flooding was severe, I
was confined in my university's dorm for multiple weeks. As a
student leader I knew I had the opportunity to make an impact in
someone else's life and I was determined to carry this out as soon
as I was given the chance. My commitment for volunteering grew when I
was told my family that lived a mere hour away from me was trapped in
their house by several feet of water and were not being rescued. To
hear that the people I cared for with every once of breath in my
being were on the edge of death awakened a sense of wanting to help
someone –anyone. Not being able to help the only people who have
sacrificed everything for me has helped me grow as an individual in
society. Once the water began to recede and highways were reopened I
started to not only volunteer, I choose to commit my service to
restore and renew hope into the lives of devastated families. As a
scholar desiring to establish a profession in the medical field,
being an active member in my community has helped shape my outlook of
what people need to live a more healthy and prosperous life. Overall,
performing community service has guided me to gain insight of how
helping others can be a step into forward looking, meaning a step
into a healthy direction towards a beneficial future. Having the
ability to encourage a group of people through the attendance of
volunteer events to aid in the relief of Hurricane Harvey were all
lessons in teaching me to become a dynamic scholarly women who is
capable of making a change. I have always struggled with feeling
unfulfilled, but when I started to offer my skills and hands in help,
I learned that there was a place in society that accepts me for my
giving spirit. I currently volunteer twice a week at Jack Yates High
School to guide young inner city students to make the right life
choices. Now that I have acquired a stronger sense of confidence, for
the next couple of years I plan to continue to use the lessons I have
endured and convert them into a learning experience for someone else
who is ready to develop, which will be a domino effect for more years
to come. My everlasting goal will remain to be an impact in an
individual's life, within my career and out.