Name: Destinee Nicole Chacon
From: Edinburg, Texas
Grade: 10th
School: Idea Quest College Prep
Votes: 0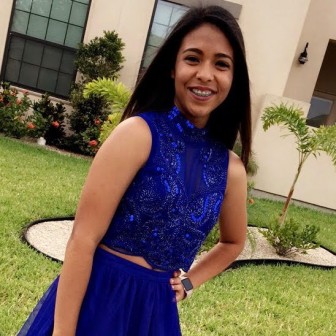 In the summer of 2016, I chose to volunteer at the McAllen Boys and
Girls Club. There was a variety of classes being offered to the
children, and I was chosen to be the dance instructor's assistant,
which was one of the best classes available. The reason I chose to
volunteer at the Boys and Girls Club was because I wanted to be more
involved in my community. There aren't a lot of available resources
for working parents in my area, so I wanted to help in any way I
could. By volunteering 40 hours a week, for a little over two months,
I learned a lot about myself. This experience taught me leadership
skills, responsibility, patience, creativity and accountability. In
total, I earned 249 hours during that summer.
I had many roles and responsibilities as a volunteer. In my role as an
assistant, I had to teach children choreography to perform for the
club on a weekly basis. I was responsible for 26 kids, in 7 different
class periods. In that role, I had to make sure the kids were kept
quiet and attentive. I also had to take them to the restroom when
needed and answer their questions. In my role as a staff member, I
helped clean the center once the day was over. This included
sweeping, mopping, and cleaning stations. We also had weekly themes,
so part of my responsibilities was to help decorate, encourage
involvement, and dress up.

The biggest challenge I faced while volunteering at the Boys and Girls
Club was time management outside of work. It was difficult to balance
my summer with my volunteering hours, friends, family, and my summer
homework. With the Boys and Girls club being my top priority, I
learned to plan my days accordingly, to incorporate other activities
into my day. I decided to divide my time wisely, by first making sure
to always have family time available. When it came to going out with
friends, I took it upon myself to only go out on Fridays and
Saturdays, leaving the rest of my week for volunteering during the
day and complete summer homework in the evening.

This was a very rewarding experience. I learned that I could contribute to
my community in small ways that make a big impact. Towards the end of
the program, one of the parents approached me to thank me for taking
care of their child. I went home, and realized how much these parents
had entrusted me with their children every day. It was a humbling
experience. I hadn't realized how my time and effort with their
children, was creating a positive impact for the program. This
experience helped shape my character, and my worldview for the
positive. This experience led me to volunteer at other places that
help my community grow. I hope I continue to do so through out my
years.