Name: Andrea Shipton
From: Mountain Top, Pennsylvania
Grade: High School Sophomore (but a Senior for 2017-2018)
School: Crestwood High School
Votes: 0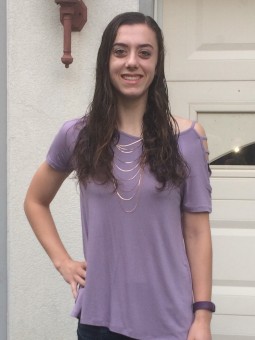 A
Mission to Serve
Volunteering
has always been an extremely important part of my life. As secretary
of the Crestwood High School Key Club and a member of my church youth
group, I have devoted lots of my time to helping those in need, such
as working with Habitat for Humanity and giving second-graders
Spanish lessons after school. During my high school years, I've
accumulated over two hundred and fifty volunteer hours, though my
most memorable volunteer experience occurred far away from school, in
the town of Washington, with a group of teenagers that I didn't
even know.
Two
summers ago, I joined a mission trip through U.M. ARMY (United
Methodist Action Reach-Out Mission by Youth), an organization
dedicated to finding individuals in need of house repairs and sending
a team of youth from different churches to their home to assist them.
My group was sent to a trailer park in Washington, Pennsylvania, to
the home of a man named Frank. Almost completely wheelchair-bound
from neuropathy, Frank had been feeling trapped inside of his own
home. The only way out was down a set of stairs, a source of a lot of
pain and difficultly. Frank needed us to build a wheelchair ramp to
make him mobile again.
During
the week spent constructing this ramp, the personal growth I
experienced by working with this group of teens was absolutely
incredible. I learned the importance of teamwork and never giving up,
even when we had to re-dig several post holes because they weren't
deep enough, or when we had to re-do an entire section of balusters
because they weren't square with our railing. I learned the value
of determination and grit during our second day, when we were hit
with a massive downpour but worked through the pain because we knew
finishing this ramp was much more important than some temporary
discomfort. Never in my life have I been in the presence of such a
kind and hard-working group of individuals, which is one of the
reasons I'm drawn back to U.M. ARMY every summer.

On
Friday, two hours after we should have packed up our tools and
returned to our church, we finished the ramp. The joy on Frank's
face the first time he rode his wheelchair down his new ramp moved
many of us to tears, an image that will remain with me for the rest
of my life. It was an amazing experience, knowing that this group of
teenagers from different walks of life had come together to truly
make a difference for this man. This experience caused me to fall in
love with volunteering, something I'll carry with me for the rest
of my life. As I get older, I know I will continue to help others,
which is one of the reasons why I'm strongly considering becoming a
lawyer after I graduate. Helping those in need is quite possibly the
most rewarding feeling in the world and changes so many lives for the
better.