Name: Rachelle-Mae Flores
From: Green Brook, New Jersey
Grade: Grade in 2015-2016: Sophomore // Grade in 2017-2018: Senior
School: Watchung Hills Regional High School
Votes: 0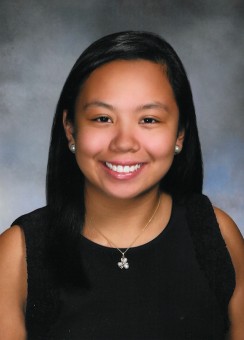 A Small Difference
Seeing
people go out to the world and enjoying what they have is something
that always inspired me to help others. I have realized that a
passion for caring and supporting my friends, family, and strangers
helps me to become a better person, progressing and finding a purpose
for my life. As a senior in high school, it is ideal for me to not
only use my free time to relax and take a break from homework and
studying; but to seek the need for help from others.
Every
week I have something that I can contribute to my community. On
Wednesdays, I volunteer at my local nursing home for two hours. My
job duties vary every week, but I spend most of my time visiting two
or more residents for 45 minutes, socializing, playing games, or
watching television with them. Sometimes I play piano in the dining
hall or "day room". It really reminds me of the importance of
being grateful and spreading the love to others around me. On
Thursdays, I have a volunteer shift at a university hospital not too
far from my home, and it goes for two hours as well. I work on a
nursing unit, giving patients water and blankets. In the beginning of
my shift, I refill on the isolation gowns and glove compartment so
that the nurses and doctors do not have a hard time getting more from
the storage unit – which is quite a distance. In these times of
volunteering, I have been challenged with being on time and making
time after for homework and studying.
Volunteering
at both of these places has really developed me as a stronger and
more caring person. I realized that everybody goes through some
issues, and it is important to be patient and kind to each and every
one of those people, because no one knows what the other person is
going through. The term "forward looking" to me means the ability
to see hope or purpose in life. I have struggled a lot with feeling
low of myself and letting failure take me over. With volunteering
playing a huge role in my life, I find myself staying optimistic and
more loving.
The
change I wish to see through volunteering is an increase of youth and
children volunteers. It is a fast-moving circle of life, with new
generations producing and old generations disappearing. The
importance of youth and children volunteering can really make a
difference, especially to the older generations because it makes
their day, knowing that their life could be gone at any moment.
In
the next 10 to 30 years, I do believe that my volunteer activities
would have "made a difference" because I have made satisfied and
helped at least a few hundred people. Even if I am just a small
portion of the world volunteering, I hope to inspire others to do the
same.