Name: Joseph Lorence Kolb
From: Riverside, CA
Grade: 10th grade
School: Arlington High School
Votes: 0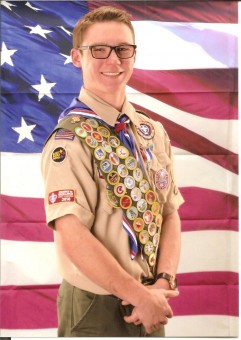 Joey Kolb
December 27, 2017
I have been a
member of the BSA for 11 years as a Cub Scout and then a Boy Scout.
The Boy Scouts of America has always been deeply involved in
community service and volunteering. In fact, in order to earn the
highest rank in Boy Scouts which is the Eagle Scout rank, you must
lead, plan out, and complete a community service project. I have
recently completed this requirement and am proud to say that I have
earned the rank of Eagle Scout. Throughout my Boy Scout career I
have completed hundreds of community service hours which include
monthly food drives and other annual events. Most of my community
service comes from these annual and monthly events, but also from
helping in fellow scouts' Eagle Projects. My volunteering occurs
more during the summer because of the break off school and my troop
is also able to partake in more community service events, so I would
say that I average about 5 hours a month in community service. As a
volunteer my responsibilities usually fall under just participating
in a group clean up or passing out food or any other items except for
my Eagle Project which led other volunteers to complete a task. I
would say the biggest challenge as a volunteer would be finding time
to volunteer because I know how easy it is to find something else to
do that just benefits ourselves. That's why being a member of the
BSA helps me find time to continue to participate in community
service. When I volunteer, the thing that gives me the most
satisfaction is watching the people that are being affected by what I
am doing, whether it is giving them something they need or building
something that will benefit the whole community. From my volunteer
experience I have learned that whatever type of volunteering you are
doing it is always helping somebody even if you don't get to see its
affect or even realize its true impact. My career goal is to either
be a physical therapist or a physicians assistant, so I think
volunteering has affected that decision because the idea of helping
other people is appealing to me, especially in a medical and physical
setting. I think my future activities are forward looking because to
me that means that I am thinking about how the future will turn out
by what I am doing now to change it for the better. The change I
seek in the world is that there will be less volunteering available
because that will mean that less people need less help with their own
or community needs. I think that my volunteering will have made a
difference because of the many Eagle projects I have helped with.
Along with mine, these projects are things that will stay with the
community for a very long time and are things like benches, trails,
and many more.