Name: Carly Goodwin
From: Silver Spring, Maryland
Grade: carly.goodwin7600@gmail.com
School: carly.goodwin7600@gmail.com
Votes: 0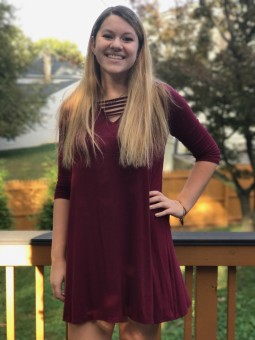 Home, school, friends' houses, the neighborhood pool, D'Anna Dance
Center. Those have been my whereabouts, week after week, since I was
three years old. For as long I can remember, dance has been a very
central part of my life.
When I was fifteen in the "seniors" class, the director asked me to
assist with the toddlers dance class. I was immediately on board; my
first thought was the Student Service Learning (SSL) hours I could
receive. It didn't occur to me at the time that this was also my
opportunity to help shape this group of young girls, to watch them
mature and improve as dancers.
I expected assistant teaching to be much like babysitting, primarily
making sure the kids were having fun while staying safe. I didn't
understand how much responsibility this job would entail. Fun and
safety were indeed important, but they also had to learn the correct
steps. Whether or not they demonstrated the proper technique,
individual improvement was always the focal point. I observed how
each girl was progressing in her own way. I also had to look at the
girls as an ensemble and watch how they danced together. Ensuring
synchronicity of group movements as well as accuracy of rhythm are
important components in the instruction of developing dancers.
Sometimes the lead teacher has to step out of class, leaving me in charge of
the girls. I may have three year old Zaya on my left, tapping my leg
to show me her pink hair barrettes – the same barrettes I'd
complimented five minutes earlier. Six year old Melissa might be on
my right, sitting on the floor, refusing to dance. She has Down
Syndrome and trouble communicating, so it isn't always easy to
figure out what is upsetting her. However, the incentive of candy at
the end of class usually gets her to participate again. Four year old
Katia could be behind me, crying because she misses her mom, as she
sees her through the glass door. And then there may be five year old
Ava in front of me, marching around, trying to make everyone laugh.
Despite their differing personalities, I love these girls and am
proud of them every time I see the slightest improvement in their
dancing or their self-confidence.
Managing all seven girls at once can be quite challenging, as they run around
in tap shoes and slip all over the place. However, when I see some
basic skill finally click in for the first time for any one of the
girls, I feel like I'm doing my job. Any stress I experience is
well worth while. At the culmination of each year, the excitement of
watching them dance confidently on stage during the spring recital is
like no other. At the end of the year's chaos, I'm glad they can
experience those feelings of joy and accomplishment, much like I did
at their age and do now in my own dance classes and performances.
Growing up, I was always quiet in public, and I would typically let someone
more assertive take charge in group settings. Assisting with this
class has given me confidence that I can be a charismatic leader.
Whether it's going over choreography with the group or working on a
new step one-on-one, I feel assured that I am contributing to the
class. I'm able to take a supportive role and yet be responsible
enough to assume the lead and decide what's best for the group.
After volunteering as assistant dance teacher for over two years, I now
know that I want to work with children in my future career. Getting
to know these girls and watching them progress has meant the world to
me. I feel accomplished contributing to each child's physical and
emotional well being, and I look forward to a great deal more of that
in my future.