Name: Jamie Esposito
From: Chalfont, Pennsylvania
Grade: 10
School: Central Bucks High School South
Votes: 0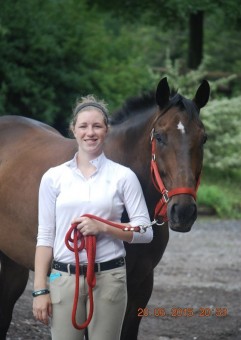 I have volunteered at several organizations throughout my life. At my
school I am a part of National Honor Society and Mini Thon. The
organization that I spend most of my time at, however, is Royce's
Rescue. It is a non-prophet, no kill animal rescue that saves horses,
cats, and dogs. I chose this rescue because I have loved animals my
whole life and I have always wanted to be a veterinarian. I chose
this rescue because it is located at the barn that I do horseback
riding at. I have been volunteering there for about ten years and I
go there for four hours a week. When I was younger I would clean the
room that the cats lived in and make sure they all had enough food
and water. I would also socialize the ones that were afraid of people
because a lot of them come from bad situations. Now, along with
helping with the cats, I mainly work with the horses. I spend my time
treating the wounds that they may have and training them so that they
can get adopted out. This is a time-consuming job but worth it in the
end. The biggest challenge I have faced so far was when two horses
came to us and they were so emaciated that we did not think the one
would survive the week. It is hard to put weight on a starved horse
because they can only eat a little at a time. I helped put them on
special diet and grazed them for twenty minutes each day until they
gained back their weight.
Helping animals that come to the rescue like these two horses is the most
satisfying part of my volunteer work. Seeing where they came from and
what they looked like to where they are now is the best part. I know
that I helped an animal in need get a new great life where they will
never be mistreated again. Doing all of this has taught me that every
life is worth saving. It also taught me how to properly care for
animals, which is a skill I will need to become a vet.
The volunteer work I do for this rescue is forward looking. Forward
looking is being optimistic and making things better for the future,
and I believe that is what this rescue does. The change I hope to
evoke in the world is to make people more aware of animals abuse and
put an end to it. I know that what I do makes a difference because it
changes the lives of the animals and the people who adopt them. I
know from personal experience because I adopted one of the horses
from the rescue who was going to be put down for a minor injury. It
has changed both of our lives for the better, and I know that it is
the same for the hundreds of others who have been adopted.