Name: Luis Vargas-Marquina
From: Reedley, California
Grade: High School Junior
School: Reedley Middle College High School/University of California, Merced
Votes: 0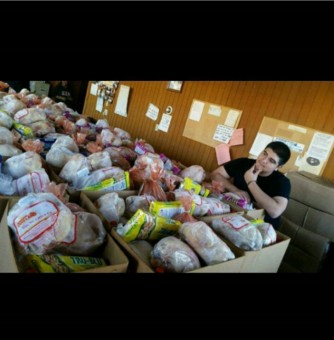 All
throughout my life I have been serving my community in some form.
I've served the homeless, youth, anti-tobacco, anti-marijuana, and
impoverished community. At the age of seven I began to serve at my
church as an alter server. At the age of twelve, I began to help at
St. Anthony's Food Center to help provide my underserved community
with resources such as food and clothing. Serving my community isn't
just a hobby it is my life. I have dedicated hours doing what is best
for my community and giving back to my community. I am confident to
state that I have served my community for more that 5000+ hours, not
even considering the hours before I began to record them (8th
grade). One of my proudest accomplishment is St. Anthony's Food
Center. I began to consistently assist every other week in my
sophomore year. I would help with four other people from my community
and a friend from school. As I began to become more active with some
school clubs I was able to learn a variety of people. During high
school I was able to become a part of IPATH and ReACT and advocate
for communities that don't know the consequences of marijuana and
tobacco products. I was also part of an agriculture club named Future
Famers of America (FFA). In this club, I learned a lot of the
communication and leaderships skills I still use to this day. I did a
lot of social networking from people around California and members in
my chapter. My third and fourth year in FFA I took a larger
leadership role in the club. I was vice-president of my schools FFA
Chapter. Through this position, I was able to recruit like-minded
individuals whom were passionate about serving their community and
eventually that group of four people became a group of 20. To this
day the new leadership members still recruiting more and more members
who are constantly serving the city of Reedley, whether it is a St.
Anthony's Food Center or Community Life Gardens or the Annual
Tri-County Food Donation. I was so proud to be rewarded for my
dedication to my community as I was given the title of 2017 Youth
Citizen of the Year by the Reedley Chambers of Commerce and be
mentioned in my cities newspaper. This award was able to reflect my
yeas of dedication to serving my community. To this day I still try
to find any ways to serve my community I was able to come home for my
winter break from UC Merced and I was so glad that I was able to do a
lot of community service. I served at St. Anthony's Food Center,
St. Anthony's Church de Padua as an alter server, and at the Annual
Tri-County Food Donation. As a future Pediatrician, my goal would to
one day retire and open a free clinic to underserved minorities. In
Addition, I was sponsor any public health initiatives for my
community's heath.