Name: Ashley Sheffield
From: Gaithersburg, MD
Grade: 10th
School: Gaithersburg High School
Votes: 0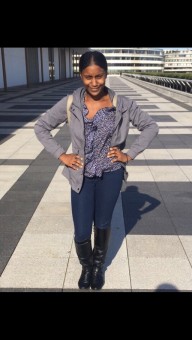 Ashley Sheffield
12/31/17
As
most seniors are in their beds enjoying their luxurious sleep, I'm
in a classroom getting my groove on to the "Action Song for Kids"
sung by The Singing Walrus. I'm surrounded by little children doing
their happy feet dancing to the song as well. We jump around and clap
our hands as the song instructs. And when the song is finished, the
kids return to their seats where they're ready to receive their
instructional teaching from the lead teacher with my assistance. It
may not be how most people spend their Saturday mornings, but this is
how my Saturday mornings are spent, from nine to eleven. I tutor
school age students between the ages of 6 and 7 years old. For two
hours, I'm a teacher's assistant for George B. Thomas Saturday
School. I help the teacher manage the classroom and first and second
graders. I read books to children, play with the children, and help
the children with their classwork. When eleven o'clock arrives,
I've taught the students their vowels, high frequency words, and
other basic foundations of the English language. As a teacher's
assistant, I've had the amazing experience of teaching bright,
diverse children across all spectrums. Each child is unique in their
own way and they all have taught me how to recognize and embrace
differences amongst human beings. The students have shown me the
importance of understanding and having compassion for others. I've
enjoyed getting to know each child and their learning styles. It has
been a privilege seeing them progress every Saturday morning.
Being
a teacher's assistant has its ups and downs. One challenge I faced
is trying to keep the students engaged. The expectation for Saturday
mornings for many people, even little children, is to sleep in late.
The kids are sometimes exhausted and unable to focus in the
classroom, but I remain patience and try my hardest to keep the
students engaged by tapping into their strengths and creativity.
Motivating is a common component that's applied in my career goal,
which is occupational therapy. An occupational therapist is aligned
with being a teacher assistant because using psychology is key to
both roles. In the field of occupational therapy, there are child
patients. Therefore, working with children have taught me new things
about children's academics
and social issues in their lives that
I can use in my career.
Nowadays,
the fundamentals of learning are falling by the wayside. I'll
continue to teach with a passion and stress the importance of
learning to the upcoming generation in my volunteer work. I strive to
teach my students to be critical thinkers, so they're able to make
a difference in the world and teach others the passion and importance
of learning as well. Volunteering in the education arena has been the
most rewarding experience. Twenty
years from now, my volunteer work would've made a difference
because my students will utilize what they've learned and apply it
in the world.