Name: Jessica Hernandez-Beltran
From: Mecca, CA
Grade: 10
School: Desert Mirage High School
Votes: 0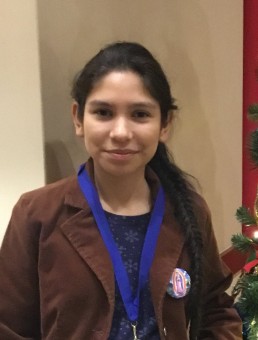 Beginning
from Scratch to Change Lives
Since
I first started seventh grade, I was assigned an advisory class in
which we could make final touches on our homework assignments from
the previous night. My teacher, Ms. Rochin, was a Spanish teacher and
she decided to share her ideas to us. She wanted to start a Spanish
Club, but the club needed students to become part of it, and so we
students decided wether to become part of her dream or not. Everyone
agreed. As members of Spanish Club, we had meetings once every week
to discuss future activities. We worked on posters for Anti-Bullying
and distributed across the school to declare that it won't
be tolerated. During the winter, the Spanish Club decided to host a
Toy Drive to the disadvantaged children for Christmas. I was
fulfilled for the first time to see the amazing donations from the
generous people and the impact it created on the faces of children to
have a toy to play with depending of they were naughty or nice for
Christmas. When I first entered High school, Ms. Rochin was
transferred there and some students, including myself, were
enthusiastic by the previous projects that we created, we suggested
her to start a new Club at the school. With that said and done, the
Red Cross Club was born. There had been tragedies for some families
who drastically lost their homes due to a fire incident and they
needed support. The president of the Club suggested to make a canned
food drive and all of the classrooms from the school contributed.
There are also situations in which a student at the school is
devastated with the loss of a loved one, such as two students which
mourned the loss of their mothers. Our new advisor, Ms. Clark,
immediately asked for the schools permission to put in donation
boxes. Since I am he treasurer of the Club, my responsibility is to
collect the money from donations. I also felt satisfied that the Club
reached its goal to collect enough donations to help both families
pay for the costly funerals, but it's also heartbreaking to witness
such casualties. Therefore, this Club serves to assist humanitarian
needs while being human. These are small but significant changes in
which volunteering contributed to low income families and has granted
me self-satisfaction to continue being part of this service in a
public agency or mentoring at school.