Name: Nicholas Taylor Thorpe
From: Lowell, NC
Grade: 10
School: Highland School of Technology
Votes: 0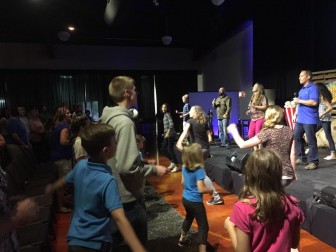 When I first decided to start working in elementary ministry way back
years ago, it was merely something I was going to test the waters in.
At the time, I was in eighth grade and wasn't that involved with
church other than regular Sunday attendance. I did assist with the
bookstore the church ran, but it wasn't much of a commitment. In
all fairness, my new task in the elementary ministry wasn't one
either, at least at that moment.
In the early days, I mostly sat back and observed what the other leaders
did. I'd engage with the kids well enough, but I wasn't exactly
the best at it. I didn't have much in the way of social skills to
begin with, and interacting with kids seven grades my junior didn't
help. Despite this, I wasn't by any means a burden, and so I
continued doing what I could and improving for several months.
The day came that my family decided to move over to a new church that was
just starting up. This meant I was out of the ministry for several
months, since the new church couldn't commit to an adult service
every Sunday, let alone an elementary one. Launch weekend finally
came, and I wasn't there due to visiting my mother, but starting
the second weekend I was regularly working as a small group helper.
Regularly meant every other weekend, half because of continuing
visitation and half because that was how the schedule was drawn out
anyway.
During this time it was mostly the same as what I did at the previous
church. I'd keep kids paying attention as best I could, help out
the small group leader in any way possible, and in general just try
not to mess anything up. I was notably improving, to the point where
after an entire year, I was made to lead a small group for the first
time. It was tentative at first, and was done simply because the
leaders were spread too thin following a couple of them departing
their positions.
One week turned into two, and pretty soon I was a static part of the
team. I stayed in my usual area of kindergarten and first grade
simply because that was where I had experience. I had a few weeks
here and there where the group didn't run as smooth as I wanted,
but even so my improvement was outstanding. The kids and the other
leaders considered me an excellent small group leader. A year after I
first started leading, I began leading every week, much to the kids'
surprise and joy.
All of this came out of a guy who had just about no social skills even
with peers. Moving around is even still a challenge, as I'm the
tallest in the room by far. But, this is insignificant. The real
meaning of my work is that I'm helping a new generation learn how
to go into the world. I wouldn't trade that for anything.