Name: Noah E Doney
From: Hyattsville, Maryland
Grade: sophmore
School: DeMatha High school
Votes: 0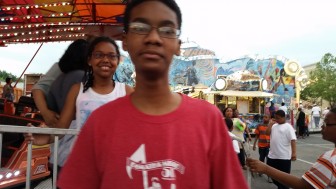 I have a 3 year old sister named Hannah.
She's rather small, and says hi to everyone she meets.
My sister has Down syndrome.

I'm not very skillful when it comes to taking care of Hannah, so I
decided to volunteer at the Prince George's County Children's
Development Clinic (PGCCDC), a place where I could learn to help
children with special needs. I volunteer every Saturday for 3 hours.
This is my 5th month at the Clinic. I work with other high school and college
volunteers. Besides working directly with the children, I also
assist with clean up after the children are gone from our area.

After our orientation we met
the children we were being assigned to work with. Because I know
sign language, I decided to work with Down syndrome children using
sign language to help develop their language and fine motor skills.
My partner and I worked with a young man named Cody. We focused our
efforts on both, speaking by using sign language and motor skill
development by playing eye hand coordination type games with him. By
the end of the program sessions the clinicians saw improvements in
Cody's motor skills, his speaking ability, and his confidence. My
biggest challenge was overcoming my fear of failure with working
with children with special needs. My biggest
satisfaction was realizing that believing in yourself gives you the
confidence you need to continue.
I am still participating in the PGCCDC volunteer program. I think my
experience in the clinic has enabled me to better care for my sister,
and to accept the challenges of any person with special needs in my
community. This experience has taught me patience and the importance
of small achievements that bring big emotional rewards. When I
return in twenty years I believe my efforts and the efforts of the
young volunteers in this program will make for a more tolerant and
caring world.